Nigeria Needs A Jerry John Rawlings-Prof Dike Says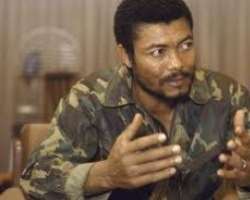 Owerri-based Professor of law and Senior Advocate of Nigeria, Francis Dike, has taken a swipe at the Economic and Financial Crimes Commission, EFCC, describing it as a disaster.
Dike, who bared his mind on the activities of the Commission during an exclusive interview with The Agenda in Owerri recently, however made a case for death penalty for corruption related offences in Nigeria, even as he called for the 'Jerry Rawlings' model in the country.
He questioned the presence of over seven hundred Policemen in the Commission, describing it as a misnomer that needs to be.
'That there are 700 policemen in EFCC is a tragedy. You go and borrow rotten eggs and put in an anticorruption Agency? They should be sent back to the barracks; security operatives should go through several tests-attitudes, psychological, moral tests. They should know their backgrounds. The EFCC does not need 700 policemen. The truth is that there are very brilliant and sound policemen, but they are all frustrated; but the exception in Nigeria is that there are more bad policemen. Wherever you turn, you see imperfection.'
Commenting on the proposed merger of the EFCC and ICPC, the don says, 'Even if you merge the EFCC and ICPC, what happens? You have one corrupt man there as chairman and so, the whole system breaks down again; every time, we keep running in a swing door. The Nigerian Financial Intelligence Unit should be removed completely from the EFCC, then, we get people of proven integrity to manage it. The situation is so bad. You go to Civil Defense, they have become mental themselves; is it Road Safety, they have become worse than the Police; is it INEC, that Jega will be saying one thing and his officials are doing another thing? The security and anti-graft agencies are even overstaffed. Cut the number by over 80% so that we can see them, focus and beam the searchlight on them. Then, it gradually starts expanding. Obasanjo did us a great disservice; he went to motor parks, recruited touts and these are people he gave guns and uniforms. They are all corrupt. It is not a matter of the number; it is about the intensity of the commitment.'
Continuing, Professor Dike dismissed claims of anti-corruption war in Nigeria, describing it as a deceit.
'Oh my God! Is there any anticorruption? The last we heard anything close to that was in the days of Murtala Mohammed. When he died, anything went. The second time was during the Buhari regime; but to some extent, it was haphazard; but thereafter, it was all a matter of lip service. In the first place, before you go into government, why don't you declare your assets? If you talk about EFCC; if you look at it, you will find out that public servants make more money and are more corrupt than the politicians. Once a politician comes in, they tell him how to make money, even if you make it, does the policeman who is going to arrest not try to make his own money?
The Ministry of Justice person who is going to vet the file, will he not ask for bribe? In certain cases, do the courts themselves not partake in corruption? The present Chief Justice of the Federation is doing much; but you know that many judges live beyond their means; how do you talk about anti-corruption war?'
'The EFCC guys, if you send them to go and probe or arrest a governor involved in money laundering, before they get there, they will send a message to the governor to tell him that they are coming; and by the time they get there, they are given their own money and they come back. Ibori is a clear example; that our judicial system failed to convict a man who was twice jailed in England before he became governor and but for fortune, he probably would have become the President of Nigeria because he was sprinting for it. The EFCC under Obasanjo was used as a political tool to harass opponents.'
'If we have a revolutionary group; that will come and one day decide to deal with all of us. Then of course, we will sort out this corruption.'