I'm still popular -Daddy Showkey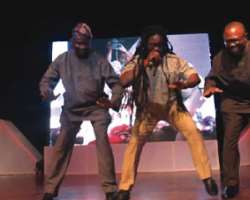 So many people may not even remember that Daddy Showkey was a great artiste and a wonderful performer many years ago.
But Showkey showed his prowess and the stuff he is made of recently at an event held in Lagos.
In fact, the Diana crooner actually got two governors, Babatunde Fashola and Peter Obi, rocking on the stage, dancing to his galala at that event while virtually everybody gave him a standing ovation.
Talking to Saturday Beats about the performance, Showkey said he didn't know Governor Fashola was a great dancer.
Showkey said, 'I called the governors on the stage to join me and I was surprised that Peter Obi could dance so well especially the galaladance. I know Fashola is a good footballer but I did not know he could dance as well.'
The singer who has a yet-to-be released  song with Wizkid, said he is in the studio to release his own song.
Showkey said he could not predict if he would stage a successful comeback in the industry but hoped people would love his songs as he believed he's still relevant in the industry.
'I cannot comment on the song Wizkid featured me on.  All I know is that I have a song I am releasing next week. I cannot predict if I would stage a successful comeback in the industry because I am not God. I am a musician and an entertainer; so it is the people that would decide based on my work. I am still very popular and that is why I have been invited to a lot of shows since December and the turnout is usually massive,' he said.