Abuja Court asked to abort national conference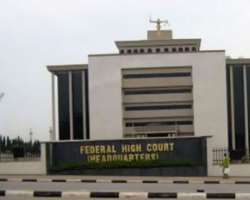 The Abuja Division of the Federal High Court has been asked to stop the federal government from going ahead with the proposed national conference.

In a suit marked FHC/ABJ/CS/ 167/204 and dated 3 March, 2014, a constitutional lawyer, Dr Tunji Abayomi, maintained that President Goodluck Jonathan, has no constitutional power to convoke or convene a National Conference without the express backing of a law ratified by the National Assembly.

Joined as defendants in the suit are the Attorney-General of the Federation, the President of the Senate and the Speaker of the House of Representatives.

Specifically, the plaintiff, is asking the court to determine whether a National Conference can be convened by the President and/or government of Nigeria without a law made by the National Assembly enabling them to do so.

In an affidavit in support of the suit deposed to by Mr. Patrick Bisong, the plaintiff, alleged before the court that the federal government has already perfected plans to spend billions of public money to fund the conference despite the absence of any law enabling the President to convoke the conference and notwithstanding the limited power invested in the President to use money to execute law or any legally authorized national idea.

Consequently, he begged the court to restrain the federal government from going ahead with the conference, noting that if they not restrained, billions of tax payers money will be spent unconstitutionally by the government under the guise of organizing a national conference.

Besides, the plaintiff told the court that the President was working with deliberate speed to convene the conference, a move he said ought to be subjected to an intense judicial scrutiny.

Meantime, no date has been fixed for the hearing of the matter.