DR. VINCENT FURO INAUGURATED AS R/S CO-ORDINATOR ... As Love To Love Foundation For Goodluck Jonathan Re-Election 2015 Is Inaugurated In Abuja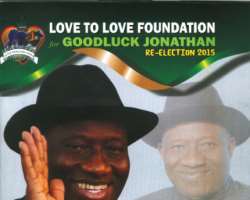 Former PH Chamber of Commerce president, Dr Vincent Adonye Kingston Furo has been appointed the Rivers state Co-ordinator of Love to Love Foundation for Goodluck Jonathan Re-election 2015. An astute administrator and distinguished gentleman, Furo believes that the Jonathan led administration has done tremendously well its transformational agenda, moving the nation forward like no other leader has done. He is urging all those fighting him to shield their sword and come to terms with the fact that he not only deserve, but it is also his right to be voted for a second term in office. he affirmed that his transformational inputs has continued to leave legacies in the sands of time..
ABOUT LOVE TO FOUNDATION:
Love To :Love Foundation is a socio-political and national development Organization that came into being, having taken an objective appraisal of the development challenges, constraints and the potential glorious future of our great nation, Nigeria, hence the need to proffer practical, timely and very effective holistic solutions to these identified issues.
membership of the organization are ranging from eminent Nigerians with passion for the nations transformation drawn from the Academia, Political class, professional, technocrats and the general public.
The objective is to actively get involved in making this nation transformed and work effectively, in which ever little or great way we can make our contributions especially through the acts of encouraging and promoting good governance.
At the formal inauguration of the group on March 1st 2014 at Bayelsa Guest House at the federal capital Territory, Abuja, Dr Vincent Furo, co-ordinator of the group in Rivers state presented a key note address. Below are the excerpts.
A KEYNOTE ADDRESS PRESENTED BY SIR (DR.) VINCENT FURO, (JP) FICA, DURING THE FORMAL INAUGURATION OF LOVE TO LOVE FOUNDATION FOR GOODLUCK 2015 RE-ELECTION AT BAYELSA GUEST HOUSE ABUJA ON MARCH, 1ST 2014.
Protocols
Introduction:
I very sincerely welcome all of you to this great nostalgic convocation and formal inauguration of Love to Love Foundation's resource persons and think-tank.
This group will immediately engage in very important task of re-presenting our very amiable Dr. Goodluck Ebele Azikiwe Jonathan, GCFR, to Nigerians as an obviously reliable and effective presidential candidate worthy of re-election for the 2015 presidential race.
Distinguished ladies and gentlemen, this task is a worthy and enduring step towards initializing novel paradigms for holistic socio-political, empowerment process that will raise a generation of excellent, accountable and courageous Nigerian leaders with an equally enlightened and powerful follower-ship.
The issue development in the Nigerian state has long been robbed by unbridled corruption, mediocrity incompetence and ethnocentricity. It is even held in some quarters that our nation suffers from triple suffocating democracy killers:
a. A near inveterate inability of political parties to allow or even accept results of elections that are credible, where votes count and are indeed accounted for, unless such results are in their favor.
b. A highly divisive if not destructive hegemonic communication where different groups predicate the claim to rulership on a number of negatively skewed variables namely heredity control of the military, control of natural resources etc. A situation where one group when they are not at the helm of affairs, assertively claim they conceded power.
c. Obsessive compulsion for unity which lacks the very essential ingredients of equity and justice leading thereby to incessant acrimony and the permanently temporary and nascent state of the nation's democracy.
Whereas these may be contributory factors, or mere symptomatic manifestations of a deeper malfeasance, we rather have reasons to believe that the poor governance indices prevalent in our nation state are rooted in lovelessness of divinity, self, one another and our dear country Nigeria.
Our action plan:
We must outline and articulate a blueprint that will make our decisions on the Nigerian project easier, realistic and implementable, and closer to the ends we seek; a practical test of the sincerity of Nigerians to match words with actions and go beyond the symbolic singing and affirming of the national anthem and pledge. We must expunge prejudice, stereotyping and distrust in national discourse and love one another. Love is the greatest of all laws!
To love requires a conscious effort. The good book enjoins us to "love the Lord thy God with all thy heart, and with all thy soul and with thy entire mind. This is the first and great commandment. And the second is like unto it, thou shall love thy neighbor as thyself. By implication, my brothers and sisters, you must start by loving yourself. The famous Latin dictum "nemo dat quod non habet", means: you cannot give what you don't have, is instructive here. So you will have no love to deliver to others unless you first love yourself. If you love yourself, you will not knowingly engage in acts that are inimical to your very existence and capable of endangering your body, soul and spirit. All good actions of men: going out for evangelism, giving in the church, paying of tithe, praying for and uplifting the dejected and the trouble-hearted and sharing what we have with the downtrodden are all begotten of love.
All the laws and prophesies hang on love. If I love you, I won't cheat you; I will not back bite you; I will seek your progress; I will pray for you and most likely receive divine revelations concerning you. Love is not word s but action. By your actions and attitude we shall know whether you operate in love or just being indifferent or that you simply exhibit the opposite to love.
Mother Theresa said, "I have found the paradox that if I love until it hurts, then there is no hurt, but only more love." Love is the basic thing that is lacking in the universe today. We need to pour abundant love into the world. We must all be committed to it absolutely. I make bold to say that such true love will bring revolution to the world and provide the individual eternal joy and happiness. Operating in love will break shackle of poverty in people lives. Love in action will guarantee you heaven than any other act of worship. More importantly, an enduring life philosophy and living mantra while her on earth is that 'other people can give you pleasure but you will never be happy until you do things for other people'. And 'you can have everything in life you want if you will help enough other people get what they want.' That is love in action!
Each individual brings his or her own unique set of strengths and weaknesses to any task. A task that is quiet easy for one person might be impossible for another. Realistically, we therefore are endowed by nature, differing talents and gifts, varying cognitive abilities and working memories, adaptability coefficient, fluid intelligence, neuroplasticity and brain processing speed. When we love absolutely we can have high capacity for tolerance and accommodation, self-control and patience. When there is abundant love, we will go the extra mile, develop a pleasing personality and do unto others as we would like them to do unto us.
With mutual trust and love, we can constructively engage in a non-divisive way the six demons currently tormenting our nation:
· The nagging issues of marginalization and minorities.
· The control of resources with equitability.
· What kind of government will exist at the center, state, and every locality?
· Corruption in high and low places.
· Infrastructural/policy development and entrenchment.
· Insecurity in the land (terrorism, militancy, ethnic wars, kidnappings, crude oil theft, armed robbery, etc)
The leadership we need now, the entire gamut of statecraft or political governance can be intrinsically complex, conspiring an intricate interplay of public resource administration, labor and wealth. For meaningful and successful administration that can uplift a people, you must have a leadership imbued with vision, diligence, wisdom-based knowledge and integrity. By integrity, we mean the willful and conscious keeping of promises made to self/or others.
In the 30's and 40's Africa was not completely awake. The Rt. (Hon) Dr. Nnamdi Azikwe, Nwafor Orizu and others went to America in pursuit of horizontal education. The type of education that would positively impact on the total personality of the beneficiary and which invariably will translate to a better society through effective governance. Ahmadu Bello, Sir Abubakar Tafawa Balewa, Obafemi Awolowo, and numerous other patriotic nationalists of their era fully identified and implemented proletarian programs and that invariably crowned them true leaders of their people.
Now, more than sixty years after our odyssey into modern democratic political evolution, there still exists a lacuna in the political education and practice.
Perhaps the nation's education does not profoundly get to the mind, and according to Azikwe, there may be continuing need to educate the uneducated and re-educate the mis-educated. In spite of the trying times and tenuous security situation pervading the nation, we must as a nation effectually deal with our past and honor promises made in other to see the future clearly.
Our past is important, it brought us to where we are today; as important as the past is, it is not nearly as important as the way we see our future. The way we see our future determines our performance today; our performance today determines our future.
Now a substantial majority of Nigerians rightly or wrongly believe that president Jonathan has shown a disciplined, focused commitment to the Nigeria project. He possesses very noble and appealing qualities of patience, tolerance, understanding, empathy and an instinctive faith in the common man.
He has carried power with remarkable humility and candor. His total commitment to a free, fair and credible election portrays him as far from desperate and indeed a man of vision. Furthermore, he has amassed an impressive array of world renowned success-conscious professionals.
Since you cannot come out of a perfumery without the scent clinging unto you, I sincerely believe with all my heart that this current breed of professionals so gathered can and should, with focused vision, diligence, commitment and integrity, rapidly orchestrate transformational and visible changes in united and peaceful Nigeria.
Distinguished ladies and gentlemen, it is my sincere feeling that everybody here gathered has the welfare of the Nigeria nation at heart, and the utmost interest in the success of the Nigerian project.
To be sure you have arrived at that significant transcendent state of nation-building consciousness, you cross-check as below:
· You are mentally ready for nation building when you have made friends with your past are focused on the present and optimistic about your future.
· You are at that level when you have made friends with you adversaries and gained the love and respect of those who know you best; when you are filled with faith, hope and love and live without anger greed guilt envy or thoughts of revenge; when you know that failure to stand for what is morally right is the prelude to being the victim of what is criminally wrong.
· You are at that state when you are mature enough to delay gratification and shift your focus from your rights to your responsibilities.
· You are at the state when you love the unlovable, give hope to the hopeless, friendship to the friendless and encouragement to the discouraged; when you know that-a win - does not make you and failure - a loss- does not break you.
· You are at that state when you look back in forgiveness, forward in hope, down in compassion and up in gratitude.
· You are at that state when you are secured in who and whose you are, so you are at peace with GOD an in fellowship with man; when you clearly understand that failure is an event and not a person, and yesterday ended last night and today is your brand new day, when you know that he who would be the greatest amongst you must be the servant of all.
· You are at the state when you are pleasant to the grouch, courteous to the rude and generous to the needy; because you know that the long term benefits of giving and forgiving far outweigh the short term benefits of receiving.
· You are at that state when you recognize, confess, develop and use your God given physical, mental and spiritual abilities to the glory of God and for the benefit of mankind.
May it be well with all of you!
May it be well with President Jonathan!
May it be well with the Federal Republic of Nigeria!
Sir (Dr) Vincent Furo, JP; FICA...
Abuja, this 01 march 2014