Chimamanda Adichie and Assortative Slaying: In the Galleria of Truth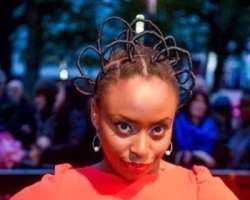 Taking your husband's last name is a mainstream tradition. If you keep your maiden name or hyphenate your last name, you're in the minority. - Echo Surina
Beowulf, one of the greatest poems in Anglo-Saxon literature gets to a climax when the dragon burns the Geats' homes and lands because a slave stole a jewelled cup from its lair. In response to that, Beowulf whose peaceful reign as the king of Geats has been fun for fifty years decides to kill the dragon personally. The dragon's destruction appears to be threatening to his supremacy and kingdom. As he attacks the dragon's lair, the thanes who were with Beowulf escapes in terror at the sight of the beast, leaving Wiglaf alone to battle at Beowulf's side. However, as Beowulf falls with fatal wounds during the fierce battle, Wiglaf slays the dragon . He made the choice to slay the traitor. He would have chosen not to. But Beowulf's choice of fighting the dragon was easy.
Chimamanda makes the assortative choice to slay aged and powerful traditions and views of the world. She opposes western hairstyles. She stands against African marriage beliefs by seriously supporting gay marriage. She has now faced the dragons; married names and Mrs. At every point in her young life she assortatively assaults any majority view no matter how strong or dangerous that belief would seem. She wilfully advances against the world and any popular ideology no matter what. She is a 21st century African Beowulf in a sense.
At the October 2013 movie premier of her novel, Half of a Yellow Sun- a story about the Biafran war which won the Orange Prize for Fiction-Chimamanda Adichie's hairstyle mixes beauty, celebrity, Africanism with creativity. Her African hairdo matched with her orange gown with which she walked the 6-inch high heel sandals on the red-carpet, accustomed as if she lives for the paparazzi. Her orange wear validated the orange prize. Beautiful metaphor, i think.
Even in her latest novel Americana, obviously her Ifemelu obsesses with hair, Adichie loves African hair, an assortative mockery, even of all the western enjoyments printed all over her. She loves blackness when it suits her, and accepts western habits when they make her personage visible. She attacks conspicuous views known to be accommodated by the majority. Adichie is to the core, eccentric, and forever an unbending friend of the minority-by attacking that which is visibly loved by the majority.
Adichie is also a visible devotee of code-mixing, making every effort in her stories to offer Igbo language to her millions of English-reading audience around the world. Igbo women retain their husband's names. Yet, she retains her maiden name, a choice few famous Igbo women make. In the rhetoric vestibule of her stories she appears to be Igbo African, but on the pragmatic foyer she is apparently a dark-skinned western goblin whose travel to America since the age of 19 has lost her to feminism and American expresso-ic agitations. She is a cat-and-dog personage who makes it clear that she is an African wife but does not want anybody to label her 'Mrs'. in any case, even Chimamanda Esege, Esege being her husband's surname, is to her unacceptable, unaccustomable and illegitimate. She prefers and demands everybody to call her her maiden name, or address her as Ms. Chimamanda Adichie, stating that traditions are dynamic and nobody can force her to shift her foot on that.
The steep power maiden names convey can never be over-emphasised. Maiden names confer the tag of virginity on a woman. It depicts maidenhood. What an excruciatingly absurd system of commonwealth nomenclature! Every so often I grimace when I see some rock-headed female celebrities retain their maiden names even after matrimony. I am not surprised that identity conscious women who realise the linguistic implications of 'maiden name' now refer to it as 'birth name'. 'Birth name' liberates them from the wrath of 'maiden name'. Most women who do not want to be one with their husbands in terms of name now prefer to argue that they want to retain their birth name, for obvious reasons of ego, ergonomics and economics. I appoint those reasons because they embrace every other purview on why women retain or reject their husbands' names that I wish to discuss below, given that Chimamanda Adichie, over the few years she has been elevated to the literary plinth, has displayed those three symptoms of selective slaying.
She rejects Mrs. for clear and understandable reasons. Truth is Mrs. is obviously an English honorific term used for women who are married and who do not use other titles such as Dame or Lady etc. However, although many women answer their husbands' surname with their first name while adding Mrs. at the front, there is no universal law to that effect.
In professional life some women use Ms. which is accepted professionally and in social settings. Single and married women use Ms. But it has been high-jacked by feminists. Adichie's adoption and preference for Ms. should be understood on this note. That choice is in line with her profession and ideologic propensity in a modern world. When inviting Adichie and her husband to an occasion, the invitation would simply read Dr. Ivara Alistair Esege and Ms. Chimamanda Adichie. This is not out of place in the west where they live. Modern etiquette allows this.
The intellectual purview actually corroborates the Mrs. purview when considering her choice of retaining her maiden name alone. Her flesh has been blistered by the fire of intellect and its radicalism that it will be extremely unlikely that Romantic and powerful men from royal and wealthy families would find her suggestive or would allow her the avalanche of freedom she enjoys with Dr Esege. As she married a man who is managing her absurdity, due to his reception of feminism, she remains as lucky as ever.
Chimamanda Ngozi Adiche was born in 1977 in Nigeria, the fifth of six children. She is Igbo. She has a degree from three different higher institutions: a Bachelor's degree in communications and political science from Eastern Connecticut State University, a master's degree in creative writing from John Hopkin's University and a Master of Arts in African Studies from Yale University. Adichie was also awarded fellowships (including the prestigious MacArthur Fellowship) from both Princeton and Harvard Universities. To add to her intellectual background her father is a college professor while her mother was the first female registrar at the same school (University of Nigeria). She has studied a bit of medicine before changing to pharmacy at the University of Nigeria Nsukka.
Having studied in Africa and much in the west, her choice of not adopting Mrs. can be linked to her academic experience in the west. She has seen some women doing same over there. She has seen nothing in not bearing the tag. This is a brave decision. It, for the American observer, sharpens her brand - a diasporic novelist intellectual feminist. There is nothing awful in not bearing that tag -Mrs.- from the intellectual and American points of view. Not bearing her husband's name may not mean a lot for a marriage between two intellectuals and for an intellectual observer. Dr Esege is also an intellectual.
But from the point of view of a Nigerian, an African, no matter where she lives, what a woman, or a married woman answers, remains significant. Sometime ago, a 36-year-old Nigerian civil servant asked a Lagos customary court to terminate his two-year old marriage over his wife's refusal to bear his surname after marriage. How such a minor thing to intellectuals destabilised and dissolved that marriage is worrisome. Yet, it is the Nigerian tradition for you. Some Nigerian women are taken the stand to retain their birth names nevertheless. It is even popular on the social media where married women retain their maiden names just as to be found easily by friends and acquaintances.
Even a Facebook survey in 2013 which analysed names of married women from their 20s upwards on the social media site reveals that 'Unlike in the past when every newly-wed bride signed for a surname change, just 62 per cent of that age group now chooses to use their husband's family name. For those in their 30s, the number rises to 74 per cent and for women in their 60s it stands at 88 per cent'.
Yet, the Nigeria social media uproar that followed the popular interview offered by Chimamanda Adichie's has been unexpectedly feverish:
Mrs. Chimamanda Adichie, welcome back to Nigeria
Before we start, please, I just want to say that my name is Chimamanda Adichie.
That's how I want it; that's how I'm addressed, and it is not Mrs. but Miss. Ms: that's how I want it. I am saying this, because I just got a mail from my manager this morning. It seems that there are people who attended the church service, and they wrote about it, addressing me as Mrs. Chimamanda (Esege). I didn't like that at all. So my name is Chimamanda Adichie, full stop!
You mean?
This is because it is also responsible that people be called what they want to be called.
You started by telling me that you're not 'Mrs.'
(Cuts in) My name is Chimamanda Adichie. If you want to put label for me, put Ms.
Yes. She is right. Call her what she likes, full stop. But it was not only that she rejected her husband's name, she did that with a tone of venomic gynocriticism. It was apparently unjust, her repugnance, as many Nigerians lashed and bashed her. She did not even follow the likes of Omotola Jalade-Ekeinde, Ngozi Okonjo-Iweala, Ndidi Okereke-Onyiuke, Lola Abiola-Edewo who hyphenated their last names with their husband's names. She decided to embrace the arms of eccentricism. Does it mean she may likely divorce the husband anytime so that she will still be a mistress as she tries to depict? Does it mean Adichie does not know she has an audience her choices are affecting? Does it mean that what Adichie wrote in her article, 'Dictatorship in God's Name' published in Sunday Sun seriously shows her Catholicism was total hoax? Does it mean also that in her 2012 article 'Things Left Unsaid' where she emotionally reiterated that:"There are many international observers who believe that Gowon's actions after the war were magnanimous and laudable. There are tons of treatises that talk about how the Igbo were wonderfully integrated into Nigeria. Well, I have news for them: the Igbo were not and continue not to be reintegrated into Nigeria, one of the main reasons for the country's continued backwardness, in my estimation," was a mere gag? Why can she not show her admiration for an Igbo tradition that does not make her less a woman or anyway unequal with men? After all men also answer Mr.
Chimamanda Ngozi Adichie bears Igbo names and also has authored three award-winning novels, Purple Hibiscus (2003), Half of a Yellow Sun (2006), and Americanah (2013), and a short story collection, The Thing around Your Neck (2009). In them she retains an Igbo voice with literary and traditional modesty which contradicts the panache and egoism with which she jettisons her husband's name. She likes the African hair but hates to love the norm of forfeiting her surname as a married African woman.
In her interview she cites the story of her grandfather, David, who bears Nwoye as his Igbo name, but with the surname Omeni, which happens to be the grandpa's mother's name. In her defence, it was because it was a polygamous family and the children were identified through their mothers. She fabricated that probably. What they so called Grandfather , Nwoye Omeni, is clearly not the man's real name. There is no place in Igbo land any father will allow his children to answer the name of a woman. It does not happen. The family name of children comes from the father. Nwoye Omeni may be used to identify him, but as a full member of the umunna, nobody will give him his share of his father's land under that name, and it is of a fact that Chimamanda Adichie does not answer Omeni. Where did she get her surname from? Is it from her father? Probably. Did her mother forsake her Father's name? No. She was groomed in a devout catholic home.
From the Christian purview, Adichie's Catholicism seriously needs a methodical review. In Christianity as well as in Catholicism, it is wrong for a married woman to forsake her husband's name. Rebellion against God and the Holy Bible is the root of this modern and annoying rejection of Dr Esege's name by Adichie.
The women's liberation philosophy and indeed gender feminism do not regard Christianity one bit. Which is a disgrace! When God created marriage in Genesis, Adam and Eve were the archetype. God states in Genesis 2:24, that, "Therefore shall a man leave his father and his mother, and shall cleave unto his wife: and they shall be ONE FLESH." Here, God is referring to the husband and wife re-made as one. It is physical and spiritual. Physically, they bear one name. They are one family. Spiritually, they retain one soul. In Genesis 2:23, "...she shall be called WOMAN because she was taken out of man." This meant that woman comes from man. You can see Wo(man). The last name of the woman is that of a man. This creates a spiritual dimension of oneness. Even in Hebrew "man" is "iysh" (masculine) and woman in Hebrew is "ish-shah". The "ish" is taken from Adam's name and the "shah" is the feminine in Hebrew. Therefore, being Adam's wife she has taken Adam's name. It is plainly a Christian dogma that was reinforced further by Matthew's popular chronology about the lineage of Jesus Christ from several generations.
And, even in Genesis 5:2 God said , "Male and female created he them: and blessed them, and called THEIR name ADAM." It is actually from this verse that families over thousands of years have had to bear the man's name. God calls them Mr. and Mrs. Adam. In other words, Chimamanda should even be called Mrs Ivara Alistair Esege, if she repents and comes back to Christian for that matter. Is Adichie not deceived by the modern traditions of westerners?
If she were to be a Muslim, as the Holy Koran clearly states, she would be free to bear her name as she pleases. The following verse justify a woman refusing to bear her husband's names :
'Call them (adopted sons) by (the names of) their fathers, that is more just with Allaah' [al-Ahzaab 33:5].
In Islamic tradition this is a popular statement by Prophet (Sal Allaahu Alaiyhi wa Sallam) which justifies the use of maiden names after marriage: 'Whoever calls himself by other than his father's name, will be cursed by Allaah, the angels and all the people.' (Ibn Maajah -Saheeh by al-Albaani).
Also, Sheikh Salih Al-Munajjid says: 'A woman changing her family name to that of her husband after she gets married is Haraam and is not allowed in Sharee'ah, because it is not permissible for anyone to claim to belong to anyone other than his or her father And Allaah knows best.'

But she is not a Muslim , another purview that could justify her stand is feminism. Feminists worry why they should change their names for men. They are dragging the rope of equality wherever it benefits their egotism. Simple selective ergonomics. Where they can get comfort by slaying certain patriarchal traditions they zoom in. They still expect men to carry heavy loads in the workplace, open doors for them, kiss their palms, go to war for them but they want more - men should bear the names of their wives. Alas, Jill Filipovic, in 'Why should married women change their names? Let men change theirs', Guardian March 7, 2013, proposed , " Allow me to suggest an even stronger push: If it's important to you that your family all share a last name, make it the wife's. Yes, men, that means taking your wife's name. Or do what this guy did and invent a new name with your wife. And women, if the man you're set to marry extols the virtues of sharing a family name but won't consider taking yours? Perhaps ask yourself if you should be marrying someone who thinks your identity is fundamentally inferior to his own". This is the rise of feminist audacity.
This statement does not pose a moral dilemma, but it deals a deadly blow on the family.
Also, some women have argued that for long time coverture laws have made them subordinates, because it meant that women's legal existence was merged with her husband's :"husband and wife are one," and the one was the husband. Formerly, under coverture laws, married women do not have rights to enter into legal contracts, or own properties as some feminists wrongly argue. Even in Royal families, centuries ago, queens like Victoria had properties. Even commoners had properties bequeathed to them at the death of their husbands since the ages. Not bearing your husband name does not automatically mean you can own properties or not own properties under the law. Why would married people not have properties with one name? Do they not have Children who may benefit from that civil unity? Are feminists wishing for quick divorce or planning against the foundations of family and the unity that envelope it by these musings about owning their own properties with their maiden names why still married?
On the heritage purview, some feminists and indeed women have kept their names not just because they are professionals like Chimamanda Adichie, but they want to retain their family tree. They argue that it was difficult to track women because of name change after marriage. They do not want to be wiped from history especially when they have no male siblings. This is a good argument. However, Adichie is yet to tender this as her reason for not answering her husband's name. Even if she tenders it, her literary fame is enough to enhance her being found in the next 2000 years. She can never get lost.
Fact is she has made her choice based on her feminist views. Yet, it is of note that feminism does not just grant freedom, it is a yoke just as patriarchy. The fact is that feminism does not give you nothing in return, but patriarchy reserves some hope, love and respect for women. Feminism uses prejudice as a weapon, unfortunately. Feminists see men as the cause of the problems in the world including making them subordinates. They forget the God argument. They now do not centre so much on equality, as we can see in this case, there is no equality argument in not answering Mrs. Adichie by that has now institutionalized chivalry and gynocentrism in the psyche of young Nigerian women. Do feminists forget that men are as oppressed as they are in several societies and doctrines in the world?
Indeed, rejecting a husband's name publicly is a sign of prejudice. The bigotry is huge. Feminists do not recall that religion and royalty dominated the world for centuries, and both have oppressed both women and men. This oppression is even playing out in democracies where several soldiers die in avoidable war. Practising hate or prejudice on anything patriarchal in the bid to get revenge on men's age long lord-ship over women is sheer stupidity and is an emoted attempt at destroying family and the world gradually. As Ghandi recommends to them, "an eye for an eye will leave the whole world blind".
Adichie's choice is a total ruination of her status as a role model. This is capable of attracting gross boycott from her literary works especially from Christians who believe she insulted them for refusing to honour the word of the Hoy Bible. She could have been silent on this. What if God instituted patriarchy? What if the Holy Bible is true? All Adichie's type would know where they would end.
The last time I checked Chimamanda Ngozi Adichie is neither a practising Christian, a Moslem nor an atheist. Her economic stature contributes to this profligacy. Wealth enhances men and women with the power to make radical choices as history has demonstrated. If she has not the wisdom to answer her husband's name, then critics should allow her to enjoy her choice. She is an adult. She is a young celebrated African evangelistic feminist and novelist. It is her call. She has always been on the SIDE of the minority so as to STAND out easily. She has always jettisoned ideas that do not make her stand out. Her vigour and success have attracted her a lot including featuring in a video song by Beyonce, who is married to Jay Z (Shawn Corey Carter), mother to Blue-Ivy-Carter, and also bears her husband's name hyphenated - Beyoncé Giselle Knowles-Carter.
Adichie is successful but a hubristic maid.
Disclaimer:

"The views/contents expressed in this article are the sole responsibility of the author(s) and do not necessarily reflect those of The Nigerian Voice. The Nigerian Voice will not be responsible or liable for any inaccurate or incorrect statements contained in this article."
Articles by Stanley Ndukwe