Grassroot Interview With Hon. (Dr) Andrew Usman Malgwi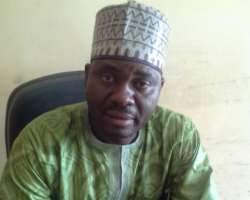 Hon. (Dr) Andrew Usman Malgwi
Hon. (Dr) Andrew Usman Malgwi is a veterinary surgeon who blended civil service with politics for service to humanity. In this interview with our Correspondent in Maiduguri, he bares his mind on the plan he has towards the upliftment of his people of Hawul Local Government Area in Borno state, and other issues. Excerpts:-
Qs. You are a Veterinary surgeon, and one expects you to be in a classroom teaching our young ones or be in the field out there practising your profession as Veterinary Doctor, what motivated you to join politics?
Ans. You see, being a veterinary surgeon, I have come to realize that the only way you can be very close to your community and then give them a helping hand is through the democratization process. My profession cannot make me to come very close to them in order to give them humanitarian services, rather than politics, because if you look at most of the affairs of the world today, are being taken over by democracy, so I believe that if I join politics I will not only come close to my people, but also know their problems and at the sametime, assist them in whatever capacity I can.
Qs. Congratulations on your appointment as the caretaker Chairman of Hawul Council Area, having come from one of the council area that has the highest number of educationists such as professors among others in the whole of Borno state, what is your plan to impact positively on the lives of your people, especially those in the rural areas?
Ans. Thank you for congratulating me as the new caretaker Chairman of Hawul Local Government Area, but before I answered your question, let me use this opportunity and thank our dynamic and purposeful Governor Kashim Shettima, the leader of our great party, the All Progressive Congress (APC) in Borno state. I want to also extend my sincere gratitude to Commissioner of Religious Affairs, Alhaji Usman Durkwa and Honourable members of the State House of Assembly, particularly Hon. Ayuba Wakawa, a member representing Hawul and of course, the good people of Hawul for giving me the opportunity to serve them. Coming back to your question, Ah....., when I took over the mantle of leadership of Hawul Local Government Area, I noticed that there are many things to be put on ground in order to empower the citizens of the council in general, more especially in the areas of education, the health sub sector, youth empowerment, poverty alleviation and revamping the agricultural system among others. more so, I want to make sure that everybody is being carried along in all the policies and programmes of this administration irrespective of tribe, religious or political affiliations.
The first thing I did was to tour the entire local government to see government establishments and agencies, I toured almost all the secondary and primary schools in the council because, education has been the bedrock of our livelihood which we must pay particular attention to it, I also toured health institutions and other government agencies. In most of the secondary schools, I noticed that lack of water and insecurity are the major problems affecting them, the boarding secondary schools for example are not fenced, which makes them vulnerable to attack by criminals. And as I have said, the new boarding secondary schools built by the present government like the Goverment Secondary School Marama is having the problem of water scarcity and is also not fenced, this situation has forced many parents to withdraw their children from the school. In the Government Secondary School Sakwa, they have one of the oldest borehole in existence, but I discovered that the school is still suffering from water scarcity as the borehole can longer supply enough water to the school. Most of the buildings are also dilapidated and needs repairs. At the Government Girls Secondary School Shaffa, I was there as well, and I noticed that their major problem is lack of water.
Work to that effect have been contracted and very soon, their problem will be a thing of the past. At Government Day Secondary School Shaffa which is a community school, I noticed that, they have a problem of classroom blocks, there was even a classroom they built which has reached a roofing stage, but the work stopped because of lack of funds, so I quickly ordered for the supply of roofing materials to enable the students benefit.From there, I went to Government Day secondary School Kwajjafa as well where I noticed that the students there are overpopulated. This is because there is no other secondary school within the catchment area, and because of this development, in a classroom of 40 to 45 students, you will see over 100 students in one classroom, which is an unfortunate situation. So, my plan is to see that all these problems are taken care of under this dispensation, and honestly, if the state government want to come to our aide, let it be the education sector, water scarcity, insecurity among others, so that our people will tests the dividends of democracy.
Qs. Your predecessors have complained on the high number of teachers in your council, which, they found difficult to pay their monthly salary, not to talk of embarking on other developmental pojects, don't you think this over burden of teachers visa -viz many primary schools will thwart some of these plans you have?
Ans. It is obviously true that Hawul is the only Council Area in Borno that has the highest number of primary schools with many teachers as well on the payroll of the council area. It is also true that we cannot meet the demands of the teachers or the employee of the state hundred percent. If you look at the payment of salaries to our teachers in the primary schools, is nothing to write home about. A monthly salary of a teacher in primary school as well as other civil servants in my council is very meager compared to other Local Government Areas of Northern Borno, because, when you have many schools, you are likely to have many teachers as well who are to teach in existing schools, and so, what we are giving them as salary is inadequate. But they know that no matter how little they are being paid, this is the best we can offer their own community. But I want to assure the people of Hawul that with the limited resources at our disposal, we will judiciously utilize them for their benefit.
QS. Hawul is one of the council that depends on Agriculture, what are you doing to ensure that your administration boost this sector?
Ans. Agriculture is one of the sectors that provide employment opportunities to our teeming population, particularly the youths. Any government that give less priority to this sector is completely a failed government, and we will not allow people to see that we operate under a failed administration. For your information, I want to tell you that Hawul is the council that has the highest number of civil servants not only in Borno, but the country at large. Most of our people have left farming occupation to our aged fathers who took agriculture as the only means of livelihood. We will provide them with fertilizer, pesticides, farm implement like tractors etc.
I will make sure that the state government through the ministry of Agriculture supply my people with fertilizer at an appropriate time of the rainy season. We are going to also encourage our people to engage in dry season farming, we will supply them with irrigation machines to enable them not only being self reliant, but income earners. But honestly, on the issue of fertilizer, I will like to personally discuss it with His Excellency, Governor Kashim Shettima to see that before the end of march this year, we are able to get our stocks on ground, so that before the real farming season starts, every farmer should be in a custody of the bags of fertilizer he/she want to use it on their farmlands. This is because, previous mistakes by bringing the product supply during June or July which is too late, have been identified as one of the factors that discourages and thwarted all effort of our farmers, and we will not allow such to continue again. By doing so, and by timely bringing the provision of the fertilizer to our farmers, it will go along way in boosting the yield of agricultural products in my council, which I believe, the state government will assist us in actualizing our dreams.
Qs. Poverty seem to be prevalent among the people of Hawul Council Area, how are you going to ensure that your administration alleviate some of the economic hardship faced by the people of your area?
Ans. You see a times, when you educate as many people as you can, is good, but at the same time bad, because as government, it will be difficult to give employment to all of them at the sametime or empower them, and when I said employment I mean a good white colour jobs. We are going to embark and pursue vigorously a policy of Skills Acquisition Scheme through vocational training of our youth in various fields such as mechanics, electricians, tailors, carpentery, wielding works and other kind of professional works to make them self employed. We will also build shopping complex in various areas across the council so that we will give soft loans for our people to set up their own businesses. Even those who want to open a barbing saloon, we will provide them with clippers and other tools needed in barbing business.
Qs. Although, you have not spend a month in your new appointment, may we know which areas of projects you first embarked upon to your people?
Ans. I discovered that most of our feeder roads are link- roads, they may not necessarily require huge government funds to constrcut or renovate. We have opened up the Katsina- Wabara road. Like the Madaki- Ngumshum feeder road in Marama, we will soon swing into action for reopening it, we will open the road linking Kidang- Humusu- Pirkusu villages, we will start refilling the potholes on Yimirshika- Garkida - Gombi federal highway. It will interest you to note that this road passed through Azare/Dizaling which is where the council headquarters is located. Although it is a federal government road, but due to neglect, we will use this opportunity in soliciting for the state government intervention to procure 3 tippers/trucks to and complement the effort we are already making through direct labour in filling most of the roads which has remained a death trap to motorists for decades. I may not necessarily look for a contractor to execute such work, so that at the end of the day, the contractor will not say I didnt pay him his entitlement and that is why he did a shady job. I prefer a direct labour approach so that I will personally supervise it if given all the necessary support by the state government Qs under our able leader His Excellency Governor Kashim Shettima.
Qs. Your appointment came at a time when the APC nationwide registration was ongoing, in which you are also a member, how will you describe the exercise in your area?
Ans. The All Progressive Congress registration exercise was very fruitful and successful. In Hawul, we have 11 wards, and each of these wards, we are asked to register 100 members, making a total of 1100 registered members needed to be conveyed to the appropriate authorities. In fact, even after we have gotten the prescribed number of those to be registered, we still have over 100 people in each units across the council that want to register, because, going by the number given to us, we in Hawul see it as very minimal, compared to the number of APC members that are willing to be registered. So I think with the number of turn out which and was highly encouraging, and with what was on ground, we don't have serious political party or oppositions in Hawul come 2015 general elections. And even if we may have, their number will be very unsubstantiated.
Qs. But Hawul is the council that has the highest number of PDP supporters, how will you now say that the APC is the party to beat come 2015 in Hawul.
Ans. Yes! For your information, most of the PDP ward chairmen in Hawul have all defected into the APC, and that implies that in all these wards, most of their followers will also defect into our fold.
QS. How realistic are you on whether the ongoing violence in Borno will warrant us to participate in the next year's general elections, particularly in volatile councils?
ANS. I am realistic that if INEC is sincere, elections will hold peacefully in Borno despite the situation we found ourselves into. In as much as we pray for peace to be restored before the 2015 General elections, I want to advice that in each local government area, 4 or 5 polling units should be merged to form one polling unit, so as to enable the security agencies monitor and supervise the exercise. Like in Hawul where we have less security risk, the units in each ward should be merged into one or 2 polling units so that adequate security of live and property will be protected by our limited security outfits. Believe me, if INEC will buy this idea, I believe the exercise will be conducted smoothly without rancour.