A Government From Boko Haram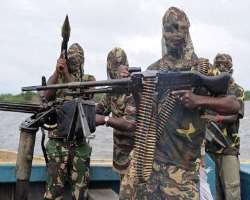 When, some months back, President Jonathan of Nigeria said that Boko Haram had penetrated his government and federal government agencies, he knew exactly what he was saying. He was right. In a way, the prolonged and mindless Boko Haram killings in the eastern parts of Northern Nigeria seem to be playing out that time-tested song by Jimmy Cliff titled 'the harder they come, the harder they fall.' The harder Boko Haram attacks come on the villages of Northern Nigeria, the harder Nigerian citizens of northern extract fall. The destructive presence of Boko Haram in Northern Nigeria can only be compared with the merciless mission of the Janjaweed militia of Darfur.
What Nigerians need to know, at this point in time, is whether these attacks still have religious or political undertones or whether they have turned out to become pure brigandage. For, in these Northern villages which Boko Haram attacks with measured frequency, the people's cattle, their foodstuff and even their beautiful young daughters are catered away by force, by unknown gunmen, to unknown destinations where, no doubt, the young damsels are subjected to sexual abuse. If this is not brigandage, what could possibly be? Come to think of it! What have foodstuff, cattle and pretty girls got to do with people who claim they want to establish a pure Islamic state, even in a country that embraces a secular and not religious constitution?
Some scholars have, as it were, posited that Boko Haram sect believes some members of a contaminated school of Muslim thought, in tandem with a highly corrupt cabal of Northern politicians, have succeeded in high jacking political dispensation in the Northern part of Nigeria. That is why they are determined to wrestle power from them. They want to see the North return to fundamental Islamic teaching and tradition.
It all sounds good and well.
But if that is their desire, why then are they are killing their own people? Why are they are spilling the blood of their own young and innocent children? Why are they are destroying their own innocent women? Why are they mowing down their own innocent men? What have those being killed got to do with the aspirations of Boko Haram? People no longer have homes in the villages Boko Haram has sacked. They are refugees in their own country, driven away from their homesteads by a mindless sect that claims to be working for their interest.
Boko Haram is the vampire that has kept sucking the blood off Northern Nigeria's future generation. The sect members have continued to cut down on their own Northern population. They have continued to limit their voting power by reducing their own number. So, someone should tell me: what sort of government can possibly emerge from the rubbles of such recklessness?
Just think about it. This is a wake-up call. How can Boko Haram, if ever they succeed in becoming a government of their own people, dry the tears from the eyes of thousands of women they prematurely turned into widows, and the many more children they turned into orphans? How can they say 'sorry' to all those families they threw into grief or left in agony after they mowed down their breadwinner? With what face will they meet their subjects after the battle is fought and won?
If all this is part of the alleged plan to make governance difficult for President Jonathan, then honestly, people from that part of the country should have their heads examined. I am sorry: I am not being rude, but I am almost convinced that this group of rascals cannot possibly stand the ground against a united Northern elders' forum which endorses government as a democratic dispensation and not a cabal of the rich and mighty shoving it down the throats of the weak and vulnerable.
Boko Haram has caused so much pain to so many families across the nation. They have killed the Igbo. They have killed the Yoruba. They have killed the Hausa and the Fulani. They have killed Christians. They have killed Muslims. They have killed students. They have killed people in the marketplace. They have killed people during events. They just don't care who they kill. They go for vulnerable people in strategic places.
Now, assuming that tomorrow a Muslim northerner becomes President of Nigeria, will these mindless killings stop?
Maybe it will be good for Nigerians to know. It is obvious that any government emanating straight from the ashes of Boko Haram's killings will either be an autocracy or another Taliban type of government which will enforce strict Islamic Laws that tend to deny women of their human rights – a government that will dry the women's tears with fire, and not with handkerchiefs. Will a Northern President be able to placate the Boko Haram sect and bring their nefarious activities under control? In other words, can a Northern President heal the wounds inflicted by Boko Haram on so many families in the North and in the South?
Nigerians should learn from the history of their country – both ancient and contemporary history. When two-time Head of State, Chief Olusegun Obasanjo, was in power, Niger Delta people were agitating so much about being marginalized in the scheme of things in the country. The bulk of the oil which sustained the economy of the nation was coming from their land. And they were being neglected. Basic infrastructure was obsolete and in some cases, non-existent. No good roads. No clean drinking water. No affordable medical care. No standard schools. Electricity supply was epileptic. There was general poverty in the land. The oil companies which were exploring oil from the Delta Region were said to have turned a blind eye to all the suffering the people of the region were passing through. They were not doing much to alleviate the level of poverty that was eating deep into the communities that made up the Delta Region. In the midst of the excruciating poverty that was ravaging the region, their top officers and chief executives preferred to live in palatial mansions in the big cities wining and dining with Governors, walking tall on the corridors of power.
Overwhelmed by their circumstances, the people of the Delta Region began to make trouble. They kidnapped oil workers. They kidnapped indigenes. They kidnapped foreigners. They kidnapped members of the families of public office holders. They vandalized oil pipelines and oil installations. They stole crude oil and refined them in makeshift refineries within the creeks, far away from government's scrutiny.

It was all telling on Chief Obasanjo as Head of State because he is a man who loves his country but who, from experience, knew how difficult it was to please every Nigerian at the same time from the Presidential Villa. Obasanjo thought out a plan.
He was convinced that a President coming from the Delta Region would be in a better position to sort out Delta people and bring relief to the country. So, he sponsored the late Musa Yar 'Adua as President and Jonathan as Vice President under the auspices of the People's Democratic Party, PDP, which at the time was largest and the ruling party.
Jonathan had become Governor of Bayelsa State after his predecessor, Diepreye Alamieyeseigha, had been indicted for money laundering by a London court and was impeached by Bayelsa House of Assembly on that account. The elder brother of Governor Musa Yar 'Adua, Major General Shehu Yar' Adua, had been a successful businessman, soldier, and politician. His father was a former Minister for Lagos during the First republic. Shehu trained at the Royal Military Academy Sandhurst, England and participated in the Nigerian Civil War. He was Vice President of Nigeria when Olusegun Obasanjo was military Head of State from 1976 until 1979.
In 1995, the older Yar 'Adua was sentenced to life in prison by a military tribunal after he called on the military
government of General Sani Abacha and his Provisional Ruling Council to re-establish civilian rule. Obasanjo was also imprisoned at the same time. Unfortunately, Shehu Yar 'Adua died in prison two years later, on 8 December 1997. When eventually Obasanjo was released from prison, he wanted to see justice done to the family of the Yar'Aduas. So, he sponsored Umaru Musa Yar 'Adua, the younger brother of his late prison mate, Shehu, to be elected as President of Nigeria in 2007 while Goodluck Jonathan was Vice President.
Everybody knew that Musa Yar 'Adua was a sick man. Twice, during his tenure as governor, he had gone for medical treatment abroad, which kept him away from work for several months at a time. But because he was loved, not only by his people from Northern Nigeria, but by almost every other Nigerian both from the East and the West, he didn't have any problem getting back into his office on return.
Whether by accident or by design, the pressure of work killed Musa Yar 'Adua after three and half years as President. Jonathan succeeded him in office.
But since Jonathan, a son of Delta Region, became President, the troubles in Delta State have not ended. No. Rather, they have escalated. The level of impunity has gone up. Members of the families of government officials are no longer safe. Even members of the family of the President himself are not safe. Recently, the step-father of President Jonathan was kidnapped right from his village home, and the kidnappers are asking for a ransom amount of N500 million (£2 million).
That level of impunity!

So, assuming that by tomorrow, Boko Haram succeeds in "wrestling power from the democratically elected government that is in control in the North", what sort of government will they be able to form? Will the fact that a Northerner has become President stop the agitation of Boko Haram? Just as having a Delta President could not stop the Delta rebellion, so a Northern President may not be able to twist the arms of Boko Haram insurgency.
In that case, will it not be an indication to Eastern and Western Nigerians that it is time for them to decide for themselves if they still want this do-or-die leadership style of their militant northern brothers or to go their separate ways because things have fallen apart and the centre can no longer hold? If that is what Nigerians need to know – and react to – this is the time to speak up, the National Conference, the opportunity.
Disclaimer:

"The views/contents expressed in this article are the sole responsibility of the author(s) and do not necessarily reflect those of The Nigerian Voice. The Nigerian Voice will not be responsible or liable for any inaccurate or incorrect statements contained in this article."
Articles by Emeka Asinugo