Anambra State Vaccinates Over One Million Children In March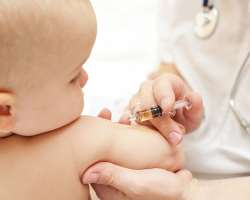 Over one million children in Anambra state were vaccinated for the Oral Polio Vaccine (OPV) in the National Immunization Plus Days (NIPDs) exercise held between March 1 to March 4, 2014.
The state Commissioner for Health, Dr Lawrence Ikeakor, who disclosed this in a press briefing, explained that the beneficiaries were 1,043187 children under five months and 208, 637 children under one month; 260, 797 pregnant women and 1,147,506 women of child bearing age.
According to him, the vaccines were free, safe and effective and parents, guardians and caregivers complied with the vaccinators who administered the vaccines from house to house, churches, mosques, schools, motor parks, markets, in the 288 primary health centres, 186 health posts and 35 general hospitals in the state.
He said the objective was to ensure that every eligible child received two drops of potent polio vaccine and to scale up delivery of other routine immunization antigens as well as other child survival interventions, and the strategy so as to increase acceptability of OPV and reduce the burden of vaccine preventable diseases, particularly to sustain polio eradication in the state and Nigeria in general.
Dr. Ikeakor who was represented by the ministry's Director of Public Health and Disease Control, Dr Chukwudi Okoye, however, noted that Anambra state was polio free, but did not want to take any chance, adding that soaps, biscuits, albendazole, iron folate and transport fares were provided for the participants.