Odajie- Mbube: Rev.Fr .Sampson Ojie ordained as a Catholic Priest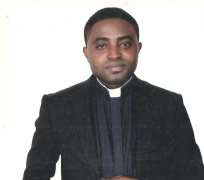 Late Chief Mathias Abang Ojie would have been the happiest man on the face of the earth to see his son been ordained as a priest. Late Chief Mathias Abang Ojie within and out of the Odajie-Mbube Catholic community was an icon to be remembered. God has a way of rewarding his people and their prayers were never in vain. The ordination of the third priest of this great community is the legacy that a father has left for his Children and they have carried on very well.
Saturday March 1st 2014 at the Catholic Diocese Calabar, Rev. Father Sampson Ojie was ordained as a Catholic Priest. Rev. Sampson Ojie was born on the 13th of June 1982 into the family of late Chief Mathias Abang Ojie of Odajie- Mbube in Ogoja Local Government of Cross River State.
Rev. Sampson Ojie started his primary school education at the Estate nursery/ Primary School in Ikot Ansa Calabar. In 1995 he was admitted into the Immaculate Conception Seminary Mfamosing where he graduated with excellence in 2002.
While in training in the minor Seminary which is the seed bed of vocation, he developed the desire to further into the Catholic Priesthood which was a dream that have come true today.
In 2003/2004 in view of the above, he was admitted into Marianum Spiritual year Seminary. After a successful completion of his spiritual year formation, he was sent by his then Archbishop; Most Rev. Dr. Brain Usanga of Blessed Memory to undergo his Philosophical studies at the prestigious St Joseph Major Seminary Ikot Ekpene in 2004.
In 2008 after his completion of his philosophical studies, he embarked on a mandatory pastoral assignment that lasted for one full year in the Archdiocese.
In 2009, he returned to his Alma Mater to undergo his theological studies and training as directed by his Archbishop, Most Rev. Dr. Joseph Edra Ukpo now (Emeritus) where he successfully completed in June 2013 with a bachelor's degree in Divinity.
Rev. Sampson Ojie holds a Bachelor of Arts degree BA (University of Uyo), Bachelor of Philosophy B.Phil. (Urbaniana, Rome) and Bachelor of Divinity B.D. (Urbaniana Rome).
The entire Odajie-Mbube Community wants to thank the Almighty God for making it possible for Rev. Fr Sampson to be ordained as the third Catholic Priest of their Community.
Rev.Fr Sampson Ojie has severally been wished a successful service and call into the Lord's vineyard. His ordination is believed that it would increase the joy of the people he will be serving, happiness and love will be spread in his community. May the almighty God give him the spirit, courage and wisdom in the midst of challenges and difficulties ahead?
By Dr. Matthew OKIRI OKEYIM
The Voice News Magazine
The Netherlands
Rev. Ojie