BUSINESSES THRIVE IN WELL MANAGED ENVIRONMENT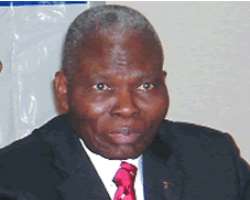 Businesses thrive in well-managed environment - Kolade, ex-Cadbury boss
By CHIMA TITUS NWOKOJI
Monday, March 15, 2010
Kolade
Dr Christopher Kolade is not new to the business community and Nigerians in general. An acclaimed corporate guru and advocate of good corporate governance, Dr Kolade is a former Director-General of the Nigerian Broadcasting Corporation.
He has served as Nigerian High Commissioner to the UK as well as Chief Executive and Chairman of Cadbury Nigeria Plc; Kolade was a lecturer in Corporate Governance and Human Resources Management at the Lagos Business School. He has promoted business integrity through his chairmanship of organisations such as Integrity Organisation Ltd., and The Convention on Business Integrity Ltd. Currently, he is Pro-Chancellor and Chairman of the Governing Council, Pan African University. In this exclusive interview he bared his mind on business leadership in Nigeria and other burning national issues.
Exerpts
Business leaders and stronger ethics
Those who are in leadership position in business must look at leadership from two important aspects. The first is that they have to lead their businesses to a sustainable success. So, they have to practice a kind of corporate governance that can ensure that sustainable success. In other words, they have to pursue best practise at all times. All these failures in corporate governance in the financial sector and so on and so forth, should spur us to go back and strengthen our own internal systems. We can minimize the room for bad practice by doing so, because people who want to cut corners will always be there.
The second dimension of leadership is that we know that successful business management cannot survive if the environment is not being well managed. For instance, if we continue to run our businesses well and power continue to fail, infrastructure is non-existent, even governance continues to be inadequate; just like we are not sure if those in leadership positions in government today, are operating the Constitution or something different, the success of our individual businesses will not be sustainable. So business today should take leadership in bringing those who manage the environment to the level where they themselves, find it in their interest to do the right things, especially giving us the right infrastructure.
Infrastructure in Nigeria is not adequate and I ask, if other countries can manage for instance, their power systems well, what stops us from doing the same? Take the example of NESCO in Jos. NESCO was a private company providing power to the Jos area and power never failed in those days until the government came and said it must be added to the national grid. That was the end of that regular power supply in Jos. Now Power Holding Company of Nigeria (PHCN) cannot ensure reliable power supply. It is possible to do it but they are not people of best practice and so they leave room for all kinds of things. So my approach is that we should take leadership to the point of best practice in our business, and then influence public policy from our leadership position.
The place of truth in business leadership
The lowest intelligence knows that if you do not speak the truth but rely on lies for any policy, that policy and anything that will go into it will collapse. It is neither guesswork nor speculation; it is self-evident. Because as you go, you have to tell another lie to cover it. It is important for you to know that you are engaged in an activity in which other people have interest and expectation. You are ethical in your performance if you take those interests and expectations into intelligent consideration.
As you return to your responsibilities you make sure that the interest of all stakeholders are equitably managed. Do not be distracted by those who have no responsibility or stake in your business.
This is not just about us as individuals but also about the corporate governance. Let us always remember that if you as an individual appears to be doing well, succeeding or appear to be wealthy and rich in an environment, which is more marred by abject poverty and hardship, it is not sustainable. What will happen is that sometime in the future, and this future I hope I will not be there; but sometime in the future all of that will blow away. And unfortunately, things will be out of control such that we will not be able to have the time and the space we have today, to try and reason our way to success and safety.
Role of business leaders in the economy
As leaders in the private sector, we must take upon ourselves the role of leadership in the economy and not fall into the trap of believing that leadership belongs elsewhere. Let me illustrate. At the moment, we have a national vision, which is aligned to the year 2020. People sometimes forget that we are already in 2010 when they talk about vision 2020. Therefore, we don't have 20 years to get to vision 2020.
The objective is to get us to a point where the whole world would acknowledge that our national economy is one of the 20 strongest economies. Since this has been expressed in economic terms, I believe that everyone knows that this cannot be a government vision. Because it is not the government that produces the things that make the economy strong, it is the business sector. These days we talk about a significant failure in corporate governance and even the management of the economy.
So, the thrust of my argument is that we as leaders of the business sector must reclaim the brand that belongs to us. Our job is to run organizations that will actually produce something better. We know that risks are there. People who have been prepared and equipped to take them will take those risks. There may be failures, and errors but we must not allow the fact that some of us got it wrong to land us in a situation where we are now making provisions that will curtail our ability to do anything positive.
Corporate governance
You see, we are setting up systems that give the impression that corporate governance is really about boards and directors. But we know that it is an all-involving activity. The employees, shareholders, and the suppliers are all involved. If we focus on boards of directors, we may get to a situation where we are deliberately underplaying the role of other stakeholders in this case.
Leaders should prepare themselves to give good, positive services and deliver the result that will actually lead to success in our organizations. We should make provisions for internal controls that will help us achieve our goals yet those controls should not be the major activity of leaders.
Corporate Social Responsibility and policymaking
Recently you have heard that there is a move in the National Assembly to legislate on Corporate Social Responsibility (CSR). If the advocates of that bill persever, don't be surprised if CSR is no longer a voluntary activity for which you have the space to take your decision on, but just another tax. You would be required to allocate a certain percentage of your income or revenue to CSR. So, if you ignore politics and politicians, they will enact such laws. I learnt when I was in school that the law is an ass.
Why is it so? Even when it is believed that what it is being asked to do is stupid; it doesn't have to say because that is what has been there. The politicians hardly have the correct information in respect of business. What we can do to take the hand of leadership is to make sure that we use our resources and our substances to produce the information that can lead to reasonable decisions today.
There is a claim in some quarters that a very small per centage of businesses in Nigeria ever participates in CSR and such information is in the records of the National Assembly. But I know, and some of us know that that is erroneous. That is incorrect information but what are we doing to make sure that we bring correct information with supporting evidence, so that those who will join the law makers in making the law, will at least know that it is probably better to leave CSR as a voluntary activity.
Government verses private sector
One complication of the relationship between the business sector and the government in an environment like that of Nigeria is that the private sector cannot perform successfully without the participation of government. So governments are part of the corporate governance that we are talking about. But it has its own corporate governance imperatives for its own success.
Take an instance of human resource management in government organizations. What is the minimum success performance in the public service? Or what do you have to do or not to do in public service to know that you are successful or that you have failed? In those days NESCO provided regular power in Jos for the community but public policy scuttled the effort. So today, if you live in Jos you are not better off than we are here in Lagos.
Hiring a management trainee in time past, more tasking than electing a president
As far back as 25 years ago, when I was active in business, we usually receive applications from about 2,000 young graduates who have finished their youth service corps. Then, we subject them to four kinds of tests. In fact they pass through a lot of test trauma to become management trainees. And when they are finally made management trainees; for 18 months we will not give them any responsibility so that they cannot do any damage. At the end of 18 months, if they do well, and I repeat, if they do well, we will then make them junior managers.
But now, I have news for you. If you want to be the president of this nation, you are all for it. All you have to be is 35 years of age. Have a qualification that is equivalent to O' level, and find a political party that is willing to sponsor you.
From what I have told you about how we hired management trainees and how you hire presidents, you now know that the responsibilities of a management trainee are far more taxing than the responsibility of the president. If you need that kind of preparation to become a management trainee, and you need none to become president, then reason and logic may not be appropriate in the realm of politics and politicians. But I believe that all is not lost because business leaders are there. Unless we take this issue in hand as leaders who are not only interested in running successful businesses but leaders who understand that successful businesses cannot be sustained in certain environments.
Therefore, business leaders must have a hand in building an environment within which you can do business the way business should be done. It is true that businesses are collapsing yet, it does not mean that things could not have been done better, it is because those who are doing them are coming from a direction that is not positive and effective.
Tenor limit and age in business leadership
You see, my personal philosophy is that we must always test the individual on the basis of the result that we expect them to achieve. If at the age superior to mine (above 65) you are able to persuade other people that you can produce the result, then I believe the opportunity to continue to do so should not be fore closed. If you give an appointment, and things that are crying to be done are so many, the scope so wide, we should not try to push some people out in order to give others equal opportunity.
If you say that one of the reasons why people misbehave in their responsibility is because they stay too long on that responsibility, it is something we can mange. But if you make a law and say it doesn't matter the age you are now, 10 years is your limit. You know what we are going to find? We are going to find that those that you would have loved to eject or those that may have retired on their own after 3 years, will now say am not yet 10 years 0! So am not going yet.
Increased taxation
Every time that people tell me they are going to increase rate, I ask them, the little you are collecting now, how effectively are you using it? What are you doing with it? Because if you are charging me N10 today and I can see the result, then I could pay more knowing that you will achieve more with it. If you have been in Lagos State for a while, you will know that in the past, we didn't take the tax situation very seriously. Because we said to ourselves, after you paid the tax so what? But suddenly, somebody comes and you can see that the consequences of the tax you are paying. People are now volunteering to pay tax.
That is the kind of people we are. So, effectiveness and delivering the right result is the best motivation to good behaviour on the part of the populace. It works.
In the days when we had only Nigerian Airways for local flights, you know we used to run Olympic race to get to the flight. Then we brought other operators and suddenly the thing is better managed and you and I now behave like human beings and no longer like animals. Such animalistic behaviour is being promoted by the way we manage our resources. People cry about taxes only when they do not see the result of the one they paid before.
Advice for the regulators of the financial system
The advice I have is that instead of the Central Bank of Nigeria (CBN) taking the position that we are all criminals and they want to stop us from committing crime; they should take the position that it is possible for us to have good intentions. It is possible for us to actually put systems in place to help us achieve those intentions. They should say for instance, the results you want to achieve are as follows. In the management of your business, you must do things that lead you positively to your results.
As long as you are doing that, we are not on your case. But if the auditors tell us that you are doing something different and the system shows that you are not faithful, we will deal with that. We don't start by saying hei! You are likely to commit a crime. Do you know how many pages there is to each form to be filled before joining the board of a company? I filled a form last week in which they were asking me who was the employer of my father (laughter). My father passed away 24 years ago, but they want to know who his employer was. I spent a lot of time even before I decided to leave it blank. If you set up a system that is meant to catch criminals, those who don't want to commit any crime will be so busy looking over their shoulder that they won't be able to face what they are supposed to be doing.
Regrets about government and politicians
I feel concerned that we have come from a good beautiful, positive experience and by our own decisions we have settled for something that is so unsatisfactory and irritating. For instance, have you noticed that some of those who are actually paid to make the roads free from traffic, blow sirens at you to get off the roads so that they can pass and leave you in the traffic that they have failed to stop. Again, what do you think your children will do 20 years from today, when you are no longer the leaders of business but succeeded by them; when they see a government where the president is incapacitated? Do you think they will rely on the Constitution? No. Because they know that you can do it outside of the Constitution. You can device your way around the Constitution it doesn't matter. After all, human beings operate Constitutions.
Therefore, we must consider the possibility that we as leaders of business have responsibility not to lead our businesses to success in spite of the constraints of the environment. But we have a responsibility also to do something about our environment. Do something that will help us to influence the expression of leadership in those areas that are significant for our own success now and in future.
Recently I read a story, which found that about 1,200 companies responded to the global economic meltdown. Nearly 50 per cent said that government was in the habit of blaming business for societal problems. Perhaps, they imply that business has not done enough to make things happen. 41 per cent of the respondents said that regulators and policy makers do not really understand the economics of industry.
And if you look at what is happening to textile industries and other industries in the economy, you wonder whether the regulators of those industries and of course, policy makers, understand the economics of industries that they are regulating. 43 per cent of the respondents believe that greater government involvement is bad for business. Yet I don't see any sign that business leaders are trying to reduce government involvement in the running of business. Most importantly, more than 75 per cent of the respondents agreed that business must be actively involved in shaping government policy that affects business.
Recipe for leaders in the private sector.
I read something that says leaders are tenants of time and context. You know that we are not permanent features of this environment. We are here for a while and then we are gone. Your time and your context are right now. That means that what ever it needs to express or exercise leadership today is what we should actually be doing. We have been so focused in correcting the ills of today that we forget that whatever we do today is creating situations for the future.
In our own time and context, only those leaders that strengthen themselves for leadership will succeed in consistently running institutions and getting results that reflect best practice.
Therefore, I suggest that we re-define dimensions for responsible and ethical management of business. Let us be sure that we know what it takes to run our business successfully. Unless we claim the responsibility for ourselves, we are going to find other people taking them away from us.
Secondly, we should review the systems that we are using today for ensuring the intelligent and faithful implementation of strategies and policies. The fact that some people failed in the banks and other institutions should make us acknowledge that perhaps our systems has left room for a lot of irregular behaviour.
Thirdly, I recommend that we take a fresh look at the systems we currently use in appointing people to strategic positions. It does not matter what systems you have, if the people are not the right people, the systems you have will crumble. Not just to positions on boards but how we appoint auditors, contractors and consultants.
Again, I ask that we should institute effective controls and see controls not as ways of stopping people from doing bad. But controls as positively integral to the business in delivering the right results.
Let us mount a determined opposition to corruption.
We will not make much progress if we do not tackle corruption. Because it is the most serious negative factor that is constraining governance in public and private sector. Let us advocate an active system for ensuring a more consistent input to public policy.
Finally, I suggest that we in business should actually increase the momentum that we currently operate in the deployment of modern technology. Modern technology allows us to deliver better results more effectively and efficiently. It helps us to minimize the negative influences even of human, government or regulatory agencies as we go. We use this so that we can reduce the room for unhelpful intervention by forces that threaten our development. Companies cannot predict the future but we can run organizations that will survive and flourish under any kind of future that we find ourselves.
Expression of interest by foreign investors in banks
It does not matter whether you bring people from outside, from inside, from the moon or whereever; what matters is this: those who are directing the strategy of the finance sector, the regulators and the policy makers do they understand what they are doing? Do they know the results they want to achieve? If you bring a foreigner to come and run a business here, he will be trying to get the highest returns for himself, but you are the one setting the parameter within which he is going to operate.
I am the one that will say to him, whenever you make one naira profit, 50 per cent of it is tax. He will accept that because he wants to do his business. So, if I operate my part of it faithfully, and he knows that within the remaining 50 percent, he still makes profit, we will have a beautiful situation. Therefore, don't be worried that foreign investors are taking an interest. If that gives us better result I am all for it.
The operators, regulators and policy makers should re-define the systems on ground and ensure that they are tailored towards proper objectives. This is imperative to avoid a situation where counter-productive policies would be foisted on the banking industry and the nation in general.