Ukraine warns Russia against aggression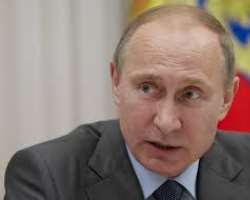 Ukrainian interim President Olexander Turchynov has warned Russia against any 'military aggression' in Crimea.
He said Russia's troops from Russia's Black Sea Fleet should not move outside their naval base in Sebastopol.
The warning comes after armed men seized Crimea's regional parliament and the government headquarters of the Russian-majority region.
The Russian flag had been raised over both buildings in Simferopol. It is not clear who the men are.
'I would like to call on the leadership of the Russian Federation to respect the basic agreements on the Russian military presence in the Autonomous Republic of Crimea,' Turchynov said.
Turchynov's warning came as Russia performed a second day of military exercises, saying its fighter jets were on 'combat alert'.
'Constant air patrols are being carried out by fighter jets in the border regions,' Russia's defence ministry told Interfax.
On Wednesday, President Vladimir Putin ordered a snap drill to test the combat readiness of troops in central and western Russia, near the border with Ukraine. Thursday's exercises appear to be part of that drill, analysts say.
The Russian foreign ministry expressed concern over what it termed 'massive violations of human rights in Ukraine'.
Amid heightened tensions between Russia and the West, Nato has issued a statement saying it would continue to support Ukraine's territorial integrity.
The US has warned against any military intervention by Russia.
Also on Thursday, former President Viktor Yanukovych issued his first statement since being voted out of office by legislators last week, telling Russian news agencies he had been 'compelled to ask the Russian Federation to ensure my personal security from the actions of extremists' and that he still considered himself the legitimate president of Ukraine. BBC