Igwe Chidubem Iweka Under Fire…Allegedly Murdered Over 23 Youths Of Obosi Land
Emeka Anyaoku, Osita Chidioka, Others Accused Of Suppressing Investigation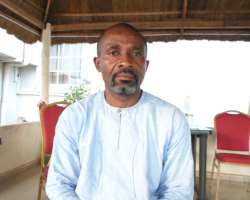 A prominent son of Obosi community in Idemili-North council area, Anambra state, Prince Emeka Ike Orizu has bemoaned what he termed suppression of investigation to unravel the rudiment of incessant ritual killings in the town, even as he stressed the needs for the law enforcement agencies to bring the culprits to book.
Prince Orizu who disclosed this in exclusive interview with Orient Daily, pointed-out that none is above the law as far as the 1999 constitution of the federal republic of Nigeria is concerned, claimed that perpetrators of the ungodly acts are the Former Secretary of the Commonwealth, Chief Emeka Anyaoku; Osita Chidioka, the Commandant of Federal Road Safety Commission (FRSC); and Chief Dan Chuke, Nigeria's Former Minister of State for Aviation.
He alleged that Obosi has been on bondage since inception of its incumbent monarch, HRH Igwe Chidubem Iweka, who had allegedly killed over 23 youths of the town and covered-up through his influence with Obosi prominent personalities after baptizing the deceased cultists, rapists, robbers among others.
His words: " Over 23 indigenes of Obosi have been killed in recent time. But only 3 families out of the deceased are currently in the court and the press demanding for justice. You don't just kill a person at no course, no trial, just for a mere allegation leveled against them by Igwe Iweka and his cohorts. I wondered why the SSS and his Special Taskforce infringes on the right of our people. Why can someone kill another without evident of offence or trial? They told you that someone is a rapist, drug pusher, robber or whatever and you go ahead and shot the person dead just like that? What are they using these corpses for-ritual or what?".
"You can't get peace in a camp of injustice. Justice must prevail. The worst is that all these families have petitioned the Federal and State Government, Security Chiefs, National and State Assemblies with no positive result because my investigation showed that each time a progress is about to be recorded likes of Osita Chidioka, Emeka Anyaoku and Dan Chuke whose influence had never brought glory to Obosi community except selfishness and evil, would order for a stop. They had nothing to show for their prominence unlike our great men who popularized them such as late Sir Godfrey Eneli, first Nigeria's High Commissioner to Britain. He was the one that recommended Emeka Anyaoku for Commonwealth..
Mr. Ikechukwu Anekwu, for instance, whose son, Obiesi was gruesomely murdered by Iweka is the head of Oliobi family where Emeka Anyaoku hails from. Yet, he suppressed the interrogation to unravel the culprits and root of Obiesie's death. We are yet to see his corpse since they claimed that he is dead. The miscreants who looted his father's properties are yet unknown. No compensation done, the butchered mother is still in the hospital. Besides, the man is still on exile since 6thDecember, 2012 till now".
Recounting how he was attached 8th November, 2011 by the hoodlums, Prince Orizu said: "See how these people go about with costly rifles and ammunition. Over 200 men of special taskforce who were militants formed by A.C.Iweka attacked me on 8th November while I was returning home. The ganged Leader told me that Iweka sent them to kill me for refusing to support him to become our Traditional Ruler. Before I could utter a word, the boy slapped me, his gang members joined with blades and weapons till I was left to ground. Blood gushes all over my body as you can see on that picture.
I am also demanding for justice over my properties destroyed on 14thNovember 2012 during their operation. They naked my wife, brutalized her and my mother beyond recognition, even as they arrested and brutalized my younger brother, Dubem Charles Orizu. The cases are still in the court. They must tell the world why they took such decisive measure upon my household without investigation. I am calling on the media, international liberty organizations, pressure groups, state and national assemblies, the presidency among other interesting groups to act come and rescue us-the people of Obosi kingdom before they would finish us", he said.