Where Is Tochukwu Nebo (Alias Baby Boy)? Dead Or Alive?...His Five Children And Four Months Old Twins Are Searching For Him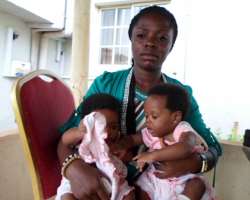 Mr. Tochukwu Nebo was the former Chairman of Obosi Land Management Committee. He is from Ire village and married Mrs. Chinenye with five children among whom are twins born to the family on October 8, 2013. Sources confided to Orient Daily that his administration was the brainchild of A.C Iweka's ascension to Igweship in Obosi kingdom.
Popularly known as Baby Boy, his immediate family, especially the wife, Mrs. Chinenye and her five children; the mother, Mrs. Christy and the father, Mr. Okwudili Nebo (now partially stroke) currently bathe with tears. Why? Mr. Tochukwu's destination is yet to be ascertained. The families have cried to the general public, pleading for a help in discovering his way-about since 6th December, 2013.
Hear the words of her wife, Mrs. Chinenye: "I saw my husband alias Baby boy last on 6th December 2013. At exactly 7a.m that day, he left us to Igwe Iweka's palace in response to the Palace Secretary's phone call ordering him to appear for a brief meeting with the monarch. But thirty minutes later, a man ran to our compound and informed us that Baby Boy was undergoing torture, beaten beyond recognition by the soldiers attached to the Igwe".
"Immediately, I boarded a bike (a commercial motorcyclist) searching for him only to discover him at Anyafulu's compound (house of the current Chairman of OLMC ); his hands were tied back as the soldiers of HRH boot him to and fro the ground under a pool of blood gushing all through his body. I cried to them to find out what truly transpired. But they ignored me, after some minutes, they threw him into their vehicle and zoomed-off to Igwe's palace where they further unleashed more terror and pains on him under the supervision of their master, the traditional Ruler".
"They fired shots on the air throughout the operation in order to scare people away from the scene. But I took courage and rushed to Igwe in heavy tears. I knelt before him, and requested to know my husband's sin. He ignored me too, and ordered the soldiers to take him away. So, they left the place to unknown destination without uttering a word to me".
"Then, till now, I and my family members are sleepless. We have searched him at all the police station in Anambra state including SARS, SSS among others to no avail. Our fear is that they have killed many youths of our town in a similar way. We don't know what else to do. Igwe and his cohorts should kindly release my husband. This is how they have killed many of our youths. Ever since, a week hardly gone without beholding some youths on rampage demanding for release of their abducted beloved. We don't know whether he is dead or alive. Also, we are yet to receive a statement pointing to his destination, offence and if he is still alive or dead".
"Please, Igwe and his men should release my darling. I have written many petitions to that effect but none is yet to produce positive result as I keep hearing that some prominent men of this town are sabotaging the investigation. But why? Why doing this to my husband? Is it right to imprison or kill a Nigerian without trial or investigation to discover and bring the culprits to book? This is injustice, if I truly understand the state of the 1999 constitution of the federal republic of Nigeria as amended".
"I have been forced to leave as a widow or a single parent; fending for self and our children. How could I carter for these twins bore October 8 last year, two months before my love sudden disappearance. I had no source of livelihood again because my petty trade is no more since this ugly incident".
"Please, the world, government, civil liberty organizations, pressure groups, the media and other relevant agencies should help me to see that justice prevail on this matter. No one is above the law. I can't afford to lose my darling at no course".
Also crying as a result of the justice denial, Mrs. Christy Nebo, the mother of yet to be found Tochukwu, said called for a thorough interrogation to find out her son's current destination.
This woman, who almost collapse at course of this interview as her Blood Pressure (BP) rose to 250, said that her husband, Mr. Okwudili Nebo is now half-dead as he has been paralyzed by stroke resulting from the bad news.
Disclaimer:

"The views/contents expressed in this article are the sole responsibility of the author(s) and do not necessarily reflect those of The Nigerian Voice. The Nigerian Voice will not be responsible or liable for any inaccurate or incorrect statements contained in this article."