Abacha loot: FG recovered, spent N500m on rural projects – Okonjo-Iweala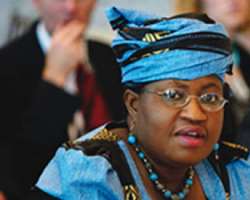 The Coordinating Minister for the economy and Minister of Finance, Dr Ngozi Okonjo-Iweala, has denied comments that $2.5 billion Abacha was recovered and that it disappeared under the minister's watch, clarifying that only $500million was recovered and spent on rural development  projects.
The statement also refuted allegations that the minister had done little on corruption, asserting that the minister has fought corruption at personal risk.
In a statement signed by her Special Adviser on Media, Mr  Paul Nwabuikwu, the minister said the amount mentioned and alleged disappearance was absolutely false with 'the  general absence of verified facts and the basing of opinions on gross inaccuracies.
'For instance, Mr Olumhense writes that $2.5 billion of Abacha money was recovered during Dr Okonjo-Iweala's time as Finance Minister under President Obasanjo and that the money disappeared implying some involvement in the disappearance by the minister. This is absolutely false. First, the amount recovered was $500 million, not $2.5 billion.
'The recovered amount was channeled into rural projects and programmes as per the agreement with the Swiss government which repatriated the funds. A combined  team of Nigerian and Swiss NGOs with the World Bank later verified the use of this money on the projects cited and they certified the money had been accurately utilized,' the statement clarified.
The statement said ' the World Bank had written about this in a 2007-2008 handbook on stolen asset recovery where the case was cited as a best practice example of how to deploy returned proceeds of looted assets,' urging the columnists 'to support his writing by a little more research as opposed to sweeping, unverified statements.'
On corruption, the statement said 'Okonjo-Iweala has not stopped at talking. The clean-up of the fraud in the subsidy payments regime to oil marketers for which she paid a heavy personal price in the form of the abduction of her mother by paid kidnappers in November 2012 is one clear example. The sole demand of the kidnappers for the first three days of the abduction was that the minister should resign and leave the country for spearheading the clean-up.
'Her 83-year-old mother was held for five days and it was only the intervention of the Almighty God in answer to the prayers of well-meaning Nigerians that brought her back, alive. Where was Mr Olumhense at this time? How can he claim that this woman is not at the forefront of the fight against corruption? Thank God her mother is still alive to tell her traumatic tale and nobody should make light of that sacrifice,' the statement explained.