PDP Flays Amaechi's Absence At Southern Peoples Forum On National Confab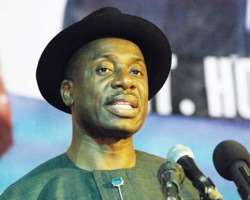 The Peoples Democratic Party, PDP, Rivers State Chapter notes with sadness the deliberate absence of the State Governor, Rotimi Amaechi at the all important Southern Forum on National Conference held in Calabar, Cross Rivers State, Monday, February 24, 2014.
The Party views Gov. Amaechi's unexplained absence as a demonstration of his neglect and abandonment of the cause of the people of the area which ought to be his priority.
Most annoying to the Party is the fact that the governor, rather than showing support for the Calabar conference, which was attended by the most eminent personalities from the States of the South, including his colleagues (Governors), Governor Amaechi prominently featured at an All Progressives Congress (APC) meeting, which was being sponsored by him outside of the State.
The PDP in a statement by Jerry Needam, Special Adviser on Media to State Chairman, describes Gov. Amaechi's action as disrespectful, misappropriation of Rivers people's money, lack of focus and insensitivity to the interest and development of the South, as well as an exposition of his exceeding hate for the people of the area and President Jonathan.
Clearly, it is unfortunate that a governor who superintends over the affairs of the State and the people could reject and deny his own people in such a manner that rather presents him as an enemy of progress of the region.
By his activities thus far it has become imperative to be cautious in involving him in issues of serious concern, particularly development issues as he has consistently and doggedly showed an unrepentant quest to ensure the failure of the people's aspiration and interest.
The Party however commends the Governors of all other States of the South, who, apart from organizing and funding the forum, attended and actively participated in the proceedings, leading to the success of the event.
The PDP also commended eminent Rivers citizens who attended the Calabar Southern Forum on National Conference, describing them as worthy ambassadors of Rivers State.
The PDP admonishes Gov. Amaechi to borrow a leaf from his colleagues, who are connected, and in touch with their people, and at all times represent the popular opinion of the people.
Signed:

Jerry Needam
SA, on Media to
State PDP Chairman
Wednesday, February 26, 2014