Crucifixion Of Gov. Okorocha In Imo State?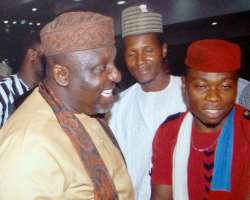 In the science of philosophy, there is a principle called the principle of contradiction which says that two propositions are contradictory if they cannot both be true and both be false at the same time. If it is true for instance, that a particular man is running it cannot be true that the same man is sitting down at the same time. A thing cannot be said to be true and false at the same time. That the Christ, the sinless Messiah was crucified and Barabbas the criminal was released authenticated the topsy-turvy of life inherent in the manipulative propensity of human government.
Barabbas was a well known criminal who deserved death in accordance with the principle of justice and Christ was sinless. Both were brought to Pilate (from the prison) for execution of justice during the Feast and it was necessary for one prisoner to be released as demanded by the custom, the Bible says "And Pilate when he had called together the Chief priests and the rulers and the people said to them, ye have brought this man unto me ……I have examined him before you, have found no fault in this man…I will therefore chastise him, and release him… and they cried out all at once, saying away with this man, and release unto us Barabbas" Luke 23:13-20.
Bad things have always happened to good people. The case of Christ (the good man) and Barabbas (the bad man) is a clear reflection on how the world loves evil rather than good and like Williams Shakespeare "I had rather have a fool to make merry than experience to make me sad". For Aristotle, "The high minded man does not bear grudges, for it is not the mark of a great soul to remember injustice but to forget them". Posterity will certainly condemn us if we attempt to forget the high level of political manipulation and ignoble economic policies hitherto initiated by the present administration led by chief Okorocha in Imo state.
During the April/May election in Imo state, the number of military men seen cannot be compared to the troop seen in Afghanistan. I will not forget my ugly experience in the hands of some of them while on my civic duty. It was rumoured then that chief Emeka Offor of Anambra state who now has parted ways with Gov. Okorocha with the help of Senator Christy Anyanwu were responsible. The rest is history. Before then, Okorocha had in his campaign assured Imo people including those in private primary and secondary schools of free education. In his maiden broadcast, he did assure Imo people that, "….we shall see no more the evils that we saw yesterday…the corruption we saw yesterday, we shall see no more…" Some people did not understand him, but I did. In the words of Aristotle, "We are what we repeatedly do. Excellence, therefore, is not an act, but a habit". If excellence is a habit, evil scheming and manipulation could also be a habit. By this I mean that Okorocha had done it before and he will do it again and again. Everything he is doing now is in his habit. Oh my Gov. confess before PDP crucifies you.
One of the principles of logic is that the little is included in the greater, as a result of what some of us knew about Okorocha, we are not taken unawares hence we are what we repeatedly do. Okorocha has said many a time that "We shall explore to build the Imo state of our collective dream and aspirations…the people's pains will be my pains and their joy my joy". Today the revise is the case and Imo people are greatly regretting to have given him any support. The cry of Imo people has become his joy. Your Excellency, please confess your sins perhaps, you may obtain mercy before you are crucified. They have gathered together against you due to your bad leadership skill, you can do better and your many sins could be forgiven you. What do you say? "It does not matter." Your Excellency, it matters a lot!
Today Imo people including the Roman Catholic Church that supported him have finally realized that the sound of a bitter cola is different from its taste. Okorocha has continued to govern Imo state as a messenger without a message, as a man who is condescending so low (as he did mention during the guber campaign) to serve in the office of state chief executive while he belongs to either the White house of America or Aso villa as Mr. President. Should I still mind them? I can hear my Governor saying in a loud voice, "Don't mind them!"
This pseudo impression of himself has continued to make him ignore the respect for the rule of law. The dissolution of the 27 Local Government Councils and the subsequent disregard of a court ruling that he lacks the powers to do so have been over emphasized in print media. We all saw how that ended. The dissolution of the 106 autonomous communities and their traditional rulers was the height of desecration of Igbo dignity and identity. The creation of these autonomous communities did follow due process as prescribed by the law many of which concluded the process required by the law during the Udenwa administration. The Ohakim administration came gazetted them and consequently gave the Ezes staff of office. Owelle dissolved them and suspend them. Later recalled them and refused to pay them their arias. We have all seen how it also ended. Your Excellency, what do you have to say? "Don't mind them, I am in charge."
In the present administration led by Gov Okorocha, there was a time in 2013 that Imo state government threw an invitation to the members of the public to tender for contracts ostensibly for works on some major high ways, roads, and streets in the state. This was published in Sunday Statesman newspaper of July 31, 2011. In the same advertisement, we found 7 Federal Roads for dualization which include: Owerri Aba Road, Owerri Orlu Road, Okigwe-Ihube-Umuelemai-Umuahia, Ihiala-Orlu-Nkwere-Anara-Umuduru road and Owerri-Umudim road. A total of 154 roads were to be involved in this exercise.
The estimated cost of the proposed project was #70 billion. The big question I asked the State Government then was to know when has it become the duty of a State Government to call for tender for works on Federal roads. Again, I also wanted to know under which budget (Gov. Okorocha) was prepared to pursue these projects? His administration ought to have run the 2011 budget and in the same 2011 budget, these projects were not accommodated there. How did he do the magic? It was reported in the media then that Rt. Hon. Benjamine Uwajimogu announced at the plenary session that the Assembly had already approved the sum of #5 billion for the executive arm of the state for actualization of its three cardinal agenda which includes road construction across the state. It could interest the reader to know that the approval was made after members "Had met behind closed doors….and following "a message from the governor…" Should I mind them your Excellency? "Don't mind them my dear!"
Something really went wrong! The said #5 billion was a supplementary budget. Yes it was! The question I asked then was, how does a supplementary budget come via a message from the governor? And like the league of Imo professionals who were then very concerned on the anomalies going on in Imo state did ask, (as captured in their advertorial on Daily Sun Tuesday, August 23, 2011) "are supplementary budgets considered behind closed doors"? Hon. Uwajimogu and the entire members of Imo House of Assembly should tell Imo people the truth because I personally discovered that among the streets and roads advertized then, many (about 80 percent) of them were in good condition and were done by the past administration.
Truth is upturned! A situation that made the popular catholic newspaper "The Leader" of Sunday August 21-Sunday August 28, 2011 to dedicate their Editorial on Rochas and his rescue mission with this inviting caption, "Rescuing the Rescue Mission" where it says, "It therefore beats our imagination to understand why there are many unresolved issues of public interest crying for attention from the government…we recall on assumption of office chief Okorocha pledged to complete all ongoing projects and we note with concern that victims of the suspended 10,000 jobs have continued to live in anxiety, as their fate is yet to be decided...other yet-to-be resolved issues on which the public has being expressing a lot of concern include, the exclusion of some Imo children studying in Voluntary Agency Schools, from the Free Education programme of the present administration". Today we have all seen how the free education of Gov. Okorocha has changed the affairs of Imo State.
The most annoying situation is why this present administration should constantly tamper with local government Allocation. This has truly troubled many Imo people the state government will publish a false figure and will pay the 27 L.G.A's less. This was seriously captured on a back page of (Announcer Express) a local newspaper in Imo State of Friday, August 26th-August 28th, 2011 with this caption "IMO NULGE Challenges LGAs' Allocation figures". The paper reports, "The Imo state branch of Nigerian Union of Local Government Employees (NULGE) has condemned what it described as inflated monthly allocation for the 27 LG's recently released by the state government. Briefing the Newspaper in Owerri, the State Secretary of the Union, Comrade C. Agonye claimed that since the inception of the administration of Rochas Okorocha, the actual amount received by the council is lower than the approved allocation…" Has Gov. Rochas changed from this ignoble act? The answer is NO!
If Rochas could be touching our LGA allocation money, where then is the fulfillment of his promise, "Your pain shall be my pain and your joy shall be my joy…" He is not ready to work with his conscience that is why our pain can never be his pain. He usually means the opposite when he talks. His rescue mission is part of his project to enrich himself. I have said it and will continue to say it that Owelle is on a mission to rescue his pocket. How can a man that needs help from our monthly Allocations be on assignment to rescue the poor? Even if it's possible, he must first of all rescue himself before rescuing others.
Prof. Nathan Protus Uzorma
Disclaimer:

"The views/contents expressed in this article are the sole responsibility of the author(s) and do not necessarily reflect those of The Nigerian Voice. The Nigerian Voice will not be responsible or liable for any inaccurate or incorrect statements contained in this article."
Articles by Nathan Protus Uzorma