Women Protest Killing Of Orji Uzor Kalu's Mistress, Ms. Chinwe Masi
At OUK's USA Home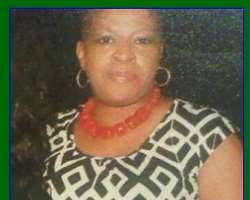 This is not the best of times for the former Governor of Abia State, Orji Uzor Kalu (OUK) as Igbere women in their thousands protested against their own son for what they termed " SAY NO TO KALU's KILLER SQUAD AGAINST WOMEN".
The women who were half nude and in their 30s and 40s marched round the camp Neya home of Kalu at Igbere on Saturday 22nd 2014 singing sober songs that tell the world how Uzor Kalu who is their son has brought shame and disgrace to their community having killed his mistress Chinwe Ogbonna on the 19th of Aug 2010 at his Potomac mansion in USA.
The women who said that OUK who through his occultist powers made his wife Ifeoma mad, should not be allowed to go scot free on this matter. In one of their placards the women praised the US Govt for declaring OUK wanted and urged Kalu to come out of hiding and face the music. The women who placed a curse on Kalu for killing the girl said they are embarking on fasting and prayers on the issue and other forbidden issues being perpetuated by the Kalu's.
The women reactions came as a result of the large number of women from late Chinwe's Village who were in Igbere to lodge complain. And at the same time, made threat to place curse on Igbere land even as the matter is being pursued legally.
A traditional ruler in Igbere who pleaded anonymity for fears of attack by kalus killer machine said that OUK has committed a lot of atrocities ranging from de filing young girls and boys, using them for rituals to eliminating perceived enemies.
He applauded Igbere women for their bold step in expressing their anger against Kalu whom he described as an agent of Satan on earth. He said that the death of the 47-year-old Chinwe whose family lives in Rivers State is an eye opener to ladies who fall for men whom they don't know their background simply because of money.
2014-02-24 120124
2014-02-24 120141