Angela Okorie Rocks Gangster Look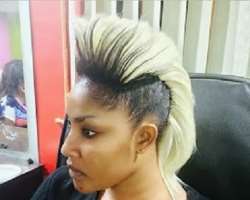 Nollyywood actress Angela Okorie has finally changed her hair style with the famous Mohawk hair style, the actress who is enjoying fame and great movie roles admits controversies have taken a new look so that it would be easier for her to interpret her role as a gangster.
Angela said about the many rumours around her "Most rumours about celebrities are cheap lies. But then if we are not important, they won't talk about us. And those people talking about us are jobless. As a celebrity, people must talk about you.I'm not really crazy about controversy, but there is a picture I'm trying to paint for my fans. Though men are polygamous in nature, but I trust my husband so much"
For now it is her job that she is after and not what people say about her.