Subsidiary denies collecting $6bn from NNPC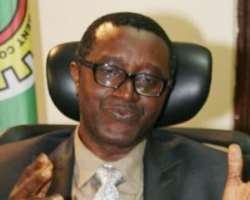 The Nigerian Petroleum Development Company has denied that $6bn proceeds from a third party crude sale arrangement were paid into its account by its parent company, the Nigerian National Petroleum Corporation.
The NNPC had in both oral and written submissions to the Senate Committee on Finance investigating the alleged non-remittance of $20bn oil proceeds to the Federation Account on Thursday said the NPDC was in possession of the amount.
But the Managing Director, NPDC, Mr. Victor Briggs, told the Senator Ahmed Makarfi-led committee that he did not receive the money from the NNPC and that his agency did not rely on the corporation for the funding of its activities.
He said, 'We did not have the money in the NPDC account; we did not receive the $6bn from the NNPC. Like I stated in our letter; from the account managed with the NNPC, royalties and taxes are paid.
'We received only funds that are required to fund the budget. The specific amount of that I can provide.'
Surprised by Briggs's declaration, Makarfi said, 'We want that in writing; for the period under review, how much did you receive from the NNPC to fund your budget? The NNPC in its submissions said you have $6bn proceeds from the crude it was lifting on your behalf; so, it was money that should have come to you. Tell us in writing what happened to the money.
'We want to know how much you (NPDC) received from the NNPC in the period under consideration and that period was January 2012 to July 2013.
'The NNPC should also provide us with details of how much of the money should belong to the Federation Account and whether the amount was actually remitted. They should also show evidences that the money was indeed remitted and provide it in writing before February 28.'
Makarfi expressed shock at the development and said that the Senate had resolved to contract a private firm to audit the accounts of the NNPC.
He asked both parties to put their positions in writing and submit to the committee before Friday this week, while a firm of forensic auditors would be requested to study the documents.
Makarfi said, 'We are hiring an audit firm. This, we shall surely do in view of the vast legal, technical, financial and accounting records and documents we have to go through.
'We are to find out what part of the $6bn, if any, should go to the Federation Account; we need to establish the identity of the third party in  the sum of $2bn third party financing and whether any amount was paid to them legally by the NNPC.'