N1tr spent on kerosene subsidy without approval -Tambuwal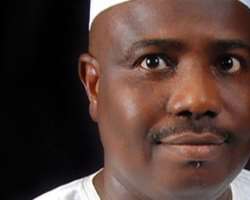 The Speaker of the House of Representatives, Mr. Aminu Tambuwal, said on Tuesday that available records indicated that the Federal Government spent over N1tr on kerosene subsidy between 2010 and 2013.
Tambuwal said in spite of the expenditure not having the approval of the National Assembly, the product was equally not available in the country for 'suffering Nigerians' to buy.
He noted that the product was not sold in any part of the country at the subsidised price of N50 per litre.
Tambuwal spoke in Abuja as the House Committee on Petroleum Resources (Downstream) opened an investigation into subsidy payments on kerosene between 2010 and 2013.
The committee, which is headed by Mr. Dakuku Peterside, had the mandate to establish the actual amount spent on subsidy by the Nigerian National Petroleum Corporation, the sole supplier of the product, and how it got the authority to subsidise kerosene.
The Speaker, who was represented by his Deputy, Mr. Emeka Ihedioha, said, 'Curiously, since there were no budgetary provisions for subsidy on kerosene, the people of Nigeria will obviously be interested in knowing the source of funding of kerosene  subsidy and on whose authority such monies were appropriated.'
But, the Group Managing Director of the NNPC, Mr. Andrew Yakubu, and the Managing Director of the Pipeline and Products Marketing Company, Mr. Haruna Momoh, evaded questions on the actual amount of money spent on subsidy during the years under review.
Yakubu at first declined to make the presentation of the NNPC, yielding the floor to Momoh to address the committee on kerosene importation and distribution.
Although, he told the committee that he would adopt the presentation of Momoh, lawmakers insisted that he must answer questions on policy issues after the PPMC-MD would have concluded his submissions.
He explained that the figures represented both the imported product and the quantity supplied by local refineries in the country.
Specifically, Momoh gave the imported figures as 1.7tn metric tones (2010); 1.6tn metric tone (2011); 1.8trn metric tones (2012); and 2.1tn metric tones (2013).
He told the committee that the job of the agency ended with the bulk supply of the product, adding that it was not answerable for how it got to the end user. Punch