Jonathan to preside over summit on corruption in oil and gas, others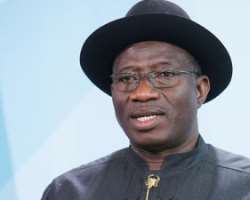 President Goodluck Jonathan is expected to preside over a planned summit in March where the issues of corruption in the oil and gas sector as well security in the Free Trade Zone would take centre stage, it's been disclosed.

The summit tagged, "Accelerating Investment in Secured Free Trade Zones," is schedule to take place in Lagos between March 24 and 26, ‎ aimed at providing multinationals participants, with practical guidelines and best practices on the most crucial challenges facing FTZ operations.

Chairman of the National Assembly Anti-Money Laundering, Cyber Crime Coalition, Senator Aloysius Etok, disclosed at the weekend, in an interaction with newsmen, said the National Assembly will partner with Anti-Money Laundering and Cyber Security Coalition to explore ways to effectively tackle corruption in the oil and gas sector of the country.

He said  improving the security in the Free Trade Zones (FTZ) of the country would enhance flawless business transactions in the zones and attract foreign direct investments.

Etok said the National Assembly and the coalition of 22 leading experts in FTZ operations plan to work out a set of onshore banking guidelines and innovative strategies to combat corruption in the oil and gas sector.

He said the summit will cover "investment strategies including licensing of investors, letting of business premises, offshore banking, corporate social responsibility, enabling business environment, staff employment and technology transfer."

Etok added that the event will also provide an opportunity for participants to share ideas on security content of the FTZ operations, policies and legislative oversight as well as information necessary to effectively manage the zones.

He called on stakeholders to join hands to ensure that the country has a secure FTZ to make it a preferred destination for foreign direct investments in line with the transformation agenda of President Jonathan.

Etok urged all companies operating in the FTZ to protect national security, engage in technology transfer and the development of the zones' communities, Etok also implored them to promote and support quality employment in line with the International Labour Organisation's (ILO) Convention.