Trade Partners Hail Nutricima Mega Cash Promo In P' Harcourt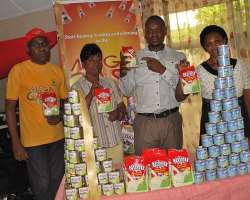 Trade partners of Nutricima Limited in Port Harcourt, Rivers State have commended the Mega Cash promo, saying the consumer-reward initiative is a glaring sign that Nutricima, makers of Coast, Nunu and Olympic milk, deeply appreciates its news and existing consumers.
The Mega Cash Promo which was launched recently in Port Harcourt attracted many trade partners and distributors of Nutricima's products to the state capital.
Among the trade partners who graced the event were Mrs Gloria Aguleto of G.C.A Stores and Mrs. Rose Obi. Both of them commended Nutricima for coming up the initiative to reward consumers of the nutritious milk products.
Speaking at the event, Mrs. Aguleto noted that Nutricima "is a reputable company known for its quality milk products. Families, children and adults enjoy their various products because of the quality. We are delighted as trade partners of Nutricima to know that consumers can have rewards for their loyalty apart from enjoying the nutritious milk. This, I think, is value added."
On her part, Mrs. Obi explained that the Mega Cash promo came at the appropriate time. "I know a lot of people and consumers will appreciate and participate in it since the process is fair and rewarding," she said. Other trade partners at the event lauded the company for taking steps to show that they care for Nigerians.
In his address at the launch, Nutricima's Regional Sales Manager, Port Harcourt, Mr. Anayo Nweje said, "Nutricima, in line with its vision to reward consumers, came up with the Mega Cash Promo as a way of expressing our appreciation to millions of our loyal consumers, including kids, youths and adults who deserve nutritious milk and food drinks which Nutricima provides.
"Apart from this, we partake in various CSR and engage the communities through various platforms like grassroots sporting activities, "Healthy Living" campaign in Neighbourhoods, partnership with Lagos State Government to drive "Drink Milk" campaign, partnering with schools for kids with special needs like Down Syndrome Foundation of Nigeria (DSFN).
"We, as a company, deeply value our numerous consumers and our quality products testify to our commitment to always provide good nutrition for both existing and new consumers in Nigeria. We offer nutritional choice at the most affordable price. Our vision from inception has been to ensure that every child and family in Nigeria is nutritionally enriched, through the enjoyment of excellent products," he said.
To win in the Mega Cash promo, Category Marketing Manager, Mr. Raphael Agbaje, explained that "Once consumers purchase any of Coast evaporated milk, Olympic evaporated Milk or Nunu powder refill which has the promo label. Under the label, consumers can find a six digit Code number which is to be sent with the product serial number to 08093377802. The sender then gets an interactive voice response which informs the consumer about what he or she has won.
Instant wins in the Mega Cash Promo include N50 airtime e-top-up for thousands of consumers, cash prizes of N500 (Five Hundred Naira), N1, 000 (One Thousand Naira), N5, 000 (Five Thousand Naira) and N10, 000 (Ten Thousand Naira) each.
Aside from the instant prizes, consumers can also qualify for a monthly raffle draw where they have the opportunity to win between N50, 000 (Fifty Thousand Naira) to N1million (One Million Naira).
To redeem their cash prizes, customers are expected to go to any branch of Zenith bank with the product label and valid ID card. Cash prizes between N500 – N10, 000 will be paid over the counter, while N50, 000 – N1, 000, 000 will be transferred to winners' accounts. 15 lucky people are expected to win N1, 000, 000 each in the raffle which will hold every month of the promo duration. The promo started on January 21st and will run till April 22nd, 2014.
2014-02-14 145404
2014-02-14 145425
2014-02-14 145449