Imo Women Declare For Okorocha, Madumere
...As Madumere Fetes Women For Their Role In Good Governance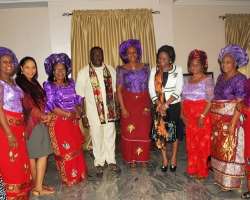 His Excellency, Deputy Governor Of Imo State And His Wife, His Worship, Adaego Madumere And Some Of The Leaders Of Mbaitoli Women For Good Governance When The Group Paid A Courtesy Call On The Imo Deputy In His Office
Mbaitoli apex women leaders under the aegis of Mbaitoli Women for Good Governance have unreservedly declared their support for Governor Okorocha and his Deputy for their developmental strides.
The women leaders during a courtesy call on Imo Deputy led by Barr. Becky Onozie, who is the President of the women body, in her speech while thanking Governor Okorocha over the choice of Prince Eze Madumere as his a Deputy Governor, pledged their unalloyed support for Governor Okorocha and his Rescue Mission Government.
Speaking to Imo Deputy Governor, " The speech reads in parts, " Your Excellency, your appointment as the Deputy Governor of Imo State has brought honour to the people of Mbaitoli and beyond. We pledge our unalloyed support and continued solidarity to the Rescue Mission Government of Imo State".
The group felicitated with Governor Okorocha and his amiable wife, the First Lady, Nneoma Nkechi Okorocha, on their God given twins, all boys, safe delivery of their daughter and their safe arrival back to Imo State.
The women group further congratulated Governor Okorocha over his victory at the Supreme Court. The women said their were thankful to God for the successful medical trip of Imo Deputy Governor, Prince Eze Madumere.
The women further called on Rescue Mission Government to help address Mbaitoli Road problems saying that will break a jinx that has bedeviled their Roads in the preceding governments as they pray for God's guidance, protection and grace upon the leadership of Rescue Mission Government.
In his response, Imo Deputy Governor, Prince Eze Madumere thanked the women for making the right choice of following and supporting Governor Okorocha. " You can never go wrong with Owelle Rochas Okorocha", he enthused.
Prince Madumere encourage the women to always stand by the truth reminding them of the strategic role of women in Community and Nation Building. He assured them he was going to take their entreaties to the Governor, Owelle Rochas Okorocha, whom he described as God fearing, responsive and a man of the people.
2014-02-14 111344