Rejoinder: "Okorocha Sponsored Legal Ambush Against APGA"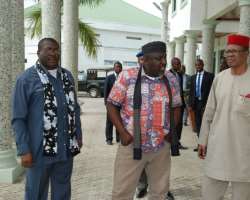 The ALL PROGRESSIVE GRAND ALLIANCE [APGA] wishes to correct an erroneous impression from our Former General Secretary ,ALHAJI UMARU SHINKAFI ,as contained in DAILY INDEPENDENT NEWSPAPER PAGE 38-39 ,CAPTIONED "OKOROCHA SPONSORED LEGAL AMBUSH AGAINST APGA"
We wish to state that Governor Rochas Okorocha ,who rose to his present status and fame on APGA good name and projection ,who in return for the good gesture abandoned the party and defected to APC ,He is not in concert nor consultation with APGA led by BARRISTER MAXI OKWU .
The Former SG of APGA said "The judgment of Federal High Court Abuja has a question mark", looking at that quote carefully ,it means he is saying that A FEDERAL HIGH COURT sitting at the Nation's capital is useless ,corrupt, untrained and mischievous .This is coming from a man who praised Federal and state courts whenever it favors him or his camp.
The Apga former Secretary General and the Former Chairman of APGA Sir Victor Umeh praised Nigerian Judiciary to high heaven when they found in favor of them against CHIEF CHEKWAS OKORIE ,when they returned APGA mandate stolen by PDP in Anambra state in 2003 ,when the court returned our able and amiable Governor Peter Obi after the state urchins removed him through illegal sitting at ASABA .They praised court and judiciary when they returned them against Chief Maxi Okwu before the past Anambra Gubernatorial election ,and all those while ,the people they lost out to obeyed the court ruling and allowed peace to reign.
Now ,we should wonder why suddenly when same court made a clear pronouncement ,instead for them to obey the court ruling or step aside as every matured adult would, or go to appeal court to make their pleadings ,they resorted to attack and barrage of attacks against the court and yet they still have in mind to visit same court to vacate same judgment ?
The question is, why won,t Alhaji Shinkafi celebrate the return of peace to APGA through the court ruling at federal High Court Abuja ?,why can't he wait to see what the court will say about the stay of execution they are pursuing at same court ?.
I am sure they will hail the court as fair and just if they secure a STAY OF EXECUTION ,I am sure they will celebrate the judge as the best thing to happen in Nigerian Judiciary ,Nigerians are no longer blind to see when people are trying to humiliate our judiciary and judges, by attacking them unjustly and hoping that they will make them serve as puppets on manipulators string.
The All Progressive Grand alliance wishes Alhaji Shinkafi well in his quest to become the Governor of his state ZAMFARA flying on Apga Ticket .
The Party will support him,give him backing and help him where he needs our help.What he need is to consult with the leadership of APGA as directed by the Federal High Court Abuja.
Alhaji Shikafi should please remember that APGA is not known for unguarded utterances .We are known for our respect to the rules of law and our law courts.He should be careful how he address the courts ,as it will not be in the interest of the party to have a former officer go to jail for contempt .
He should pay more attention to his ambition of becoming the Governor OF Zamfara state than to join in this chasing of shadow and throwing of darts on a speed moving progressive Train driving by Barrister Maxi Okwu.