US BANK REGULATION BILL DUE TO BE UNVEILED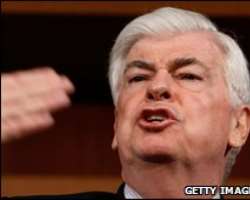 Christopher Dodd has struggled to get Republican backing
A new bill to tighten regulation of US banks is due to be unveiled on Monday, but it is unclear if it will succeed in gaining Senate support.
The legislation is being presented by Democratic Senator Christopher Dodd, chairman of the Senate Banking Committee.
He is moving ahead with the bill despite Republicans on the committee withdrawing their backing last week.
Mr Dodd needs some Republican support to get the bill through the Senate.
This is because – following the Republicans victory in the Massachusetts Senate election in January – the Republicans no longer have the 60-seat majority required to defeat blocking.
More Fed powers?
According to the Reuters news agency, Republicans on the committee have indicated they could still back the bill, if given more time to consider it.
Although the exact details of the bill – in its first form – will not be known until it is presented, it is widely expected to propose that the US central bank, the Federal Reserve, is given extensive new powers to regulate the commercial lenders.
It is also tipped to propose giving the government the power to seize and dismantle a large failing bank, or other such financial company.
It is further expected to call for the establishment of a new "risk council" to monitor any emerging threats to the financial sector.