Amaechi's Invitation To Obasanjo, An Unholy Alliance –PDP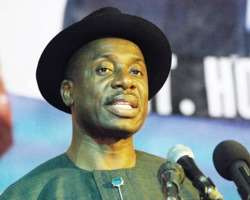 The Peoples Democratic Party, Rivers State Chapter has described the invitation of Former President Olusegun Obasanjo by Gov. Chibuike Amaechi to the state for project commissioning as rather fictitious to further deceive the people over his feigned acceptability.
According to a statement signed by the Special Adviser, Media to the State PDP Chairman, Jerry Needam, the invitation smacks of hypocrisy, pretence, deceit and lack of integrity in both Obasanjo and Amaechi as both are using the political crisis in the state to pretend to have resolved their resentment for each other.
The PDP recalls that it was same Obasanjo in 2006 that castigated the state for wishing to have somebody like Amaechi as governor, instigated criminal investigation against Amaechi as Speaker of the State House of Assembly and unmistakably denied him the PDP governorship flag in what was to be known as K-leg, Obasanjo's own coinage.
It's also on record the PDP notes that, upon assumption of office much later, same Amaechi in retaliation on Obasanjo cancelled the Airforce Base Link Road named after Obasanjo by ex-Gov Peter Odili.
Ironically, the same Obasanjo link Road is one of the projects the former President is billed to commission in addition to some schools and roads completed by Dr. Peter Odili, some of which he, Obasanjo had between 2001 and 2006 formally commissioned, the PDP stressed.
The PDP feels that as a statesman Chief Obasanjo ought to be, he should exhibit some sense of integrity and conscientious politicking and for once should be seen as one without a penchant to speak from both sides of his mouth or guilty of double standard or worse still, going back to his vomit.
"We see the entire episode as a drama where both dramatis personae (Obasanjo and Amaechi) wish to hoodwink their targets and ending up shooting themselves in the leg because this alliance is unholy and will achieve nothing but mockery of democratic ideals", the PDP declared.
Signed:

Jerry Needam
SA, on Media to
State PDP Chairman
Wednesday, February 12, 2014