Iyiola Omisore And The Guba Race In Osun State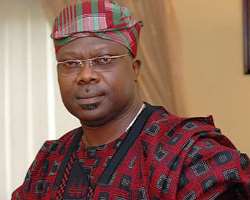 I ask myself,(I am only thinking aloud) can anyone irrespective of one's political putrefied antecedent aspire for governor of the state of Osun… Yes of course! I supplied answer within my mind, since the constitution guaranteed such right except he is an ex- convict.

It was a sadden news that continues to flash across the memories of people… the murder of Chief Bola Ige. A few professionals are more successful and beneficial to the society than "IGE", a renowned advocate that was prominent in the Nigeria politics. This enigma, focal endowed with a powerful oratory influence was the Attorney General and Minister of Justice when he was murdered in his own house in a cold blood. The relevancy of this line of story is the connection of Sen Iyiola Omisore with the murder of IGE, he was one of the suspect and was arrested and trialed in court. He was discharged and not acquitted through what is refers to as NOLLE PROSEQUI, it is a power granted to the Attorney General of the state and the Federation to terminate criminal trial at any point before the judgment is pronounced. This constitutional power I considered obnoxious, a cutlass in the hand of devil which can never be used for good.

I have said it times without number that this species of naked power (NULLI and IMUNITY) will always be miss-use at the expense of the society and justice, with this power of NULLI, politician can commit all crimes in this world and get away with. It is such a useful power for the political murderers. The termination of this kind is just a discharge and not acquittal which means the charge can still be brought against such an accuse which, that is to say the film still continue and the story line is still lengthy. It is a trite in Law that accuse is presumed innocent until contrary in proven Sec 36(5) CFRN, meanwhile, it is common witty saying that there is no smoke without fire.

An Attorney General who quietly terminates a murder case with the power of NULLI, whose interest does he guides? Why can't the AG wait and allow the court to do justice in every case at hand? In my opinion, when power of NULLI is used in this manner, it shows that such a crime is a political crime that affects the people in power. It is a pointer to the fact that a crime is actually committed and by the persons who are standing trial and since it is linked with the government, the Attorney General quickly explore the constitutional tools call power of "NULLI" to cover the mess.

Iyiola Omisore was in the detention when he was nominated as PDP candidate to run for Senator; still, he was in the detention when he won the election… you can imagine the game in the manipulative era of Obasanjo and Moris Iwu, the era of maximum manipulation and rigging of election.

Now that he wants to direct the affairs of the state of Osun, he cannot be free from some questions which only he can answer. As a person who has had opportunity of been the Deputy Governor of the state of Osun during Akande led government, what was his distinct contribution to the government? We wish to ask if he has any traceable initiative that added value to the lives of the people of the state of Osun?

It was learnt from a reliable source that Iyiola Omisore was the coordinator of political high profile corruption while he was the Deputy Governor of Osun state. It was a corrupt culture in civil service where bribe is received and undue money extort from contractors are distributed across the ranks at the end of every year. Bisi Akande later got to know that such dirty dealings were in progress and warn against it and order that it should be stopped, the governorship aspirant, the alleged murderer of Chief Bola Ige gave them buoyancy and made it done behind the Governor, he even took the governor's share of the proceed of bribery.

As much as Iyiola Omisore enjoys the rights to contest, many factors will determine his acceptability. He must be re-trailed and be duly (not politically) acquitted by the competent court of law. Also, since he has served as Deputy Governor and later as Senator of Federal Republic of Nigeria, we thus have opportunity to flash back and to review his days as political leader. Do we have laudable and numerous project, initiatives, and agenda that have benefited people? If we are able to count in good numbers, the pronounced and clear and intelligible achievement of Omisore as Deputy Governor and later as a Senator of Federal Republic and the court of the land find him not guilty of the murder of IGE, I do not have anything against his candidature in the gubernatorial race in the state of Osun. However, in the absent of laudable achievements in these mentioned offices he held, he is better rejected and opposed right away, and let him be aware that it is not a place to learn, our government house not meant for mediocre.

It is my call and a louder one that the trial of the murder of Chief Bola Ige should be revisited as a matter of urgency… It is sadden and dismal when crimes are politicized by any person, group or political party. Using NOLLI to terminate such a murder case is a total abuse of the power of NOLLI and I personally wish that such Attorney General who explore such sinister NOLLI falls a victim of murder, so that he knows in "the heaven above" what it means to be killed by another man. This controversial "NOLLI" has disenable us from knowing whether or not the allegation of murder was framed against Iyiola Omosore, it disenable us from knowing the detail of the murder of Chief Bola Ige, It enable the murderers of Chief Bola Ige to move freely and continue their business of killing. I am of strong opinion that "NOLLI" is fraud and shelve for political criminals and should be expunged from our constitution. Since the killers are still killing, we then want to know the killers before they kill us all. That is why we want retrial of the murder of Chief Bola Ige, since their hill fated "NOLI" does not stop retrial of the case.

The time has come when selfishness and ego rule the temperament of politicians in the state of Osun since the governorship election is nearer. The youths who in many instances suffer bloody blow from the antisocial violence engineer by the desperate politicians, need to be intelligently bold and act wisely during the ongoing electioneering season in the state of Osun, let us not be wiped out before our turn by desperate politicians.

The Police in the state of Osun are highly needed now than before to play an umpire role and to go extra- mile to sustain peace and stability in the state of Osun and to prevent with all cost any form of political killings. They must not fail in this regard unless they are worthless and irrelevant contrary to their constitutional roles.
Iyiola Omisore
Disclaimer:

"The views/contents expressed in this article are the sole responsibility of the author(s) and do not necessarily reflect those of The Nigerian Voice. The Nigerian Voice will not be responsible or liable for any inaccurate or incorrect statements contained in this article."
Articles by Abdulsalam Abdulfatah Liberty