Re: Peter Obi (SIC) Antics Can No Longer Be Funny To Obiano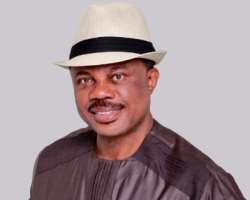 I enjoyed reading Chibuzor O. Obiakor's ill-digested piece, published under the above heading on the online portal; Elombah.com on Sunday, February 9, 2014. Obiakor's highly flawed article would have made for an interesting reading but for its rabid mischief. Obiakor's mission was thinly disguised, namely; to poison the communal well in APGA with a bizarre broth of lies, crooked hunches, gut-feeling and crass ignorance, neatly pieced together as an informed analysis.
Obiakor's approach was rather too jejune for a commentator of his calibre. His opening effort was to cast Chief Willie Obiano, the Governor-elect in the mould of a helpless victim of circumstances who has neither a mind of his own nor a capacity to figure his way out of the woods. And two, use Governor Peter Obi's increasingly familiar approach of making donations to institutions to weave a tale of panic and betrayal that would sow mistrust in the leadership of APGA.
After all his years in Chicago, it is a sad commentary that Obiakor's often invidious interventions in our political discourse, most of which never stray from plain mischief and utter red herring have never laid any claims to depth. Time and again, Obiakor has shown himself as incapable of rising above the usual caterwaul of hired town-criers, wailing from both sides of the mouth. While we do not begrudge Obiakor and his ilk the right to free speech as enshrined in the finest traditions of democracy, it would be inconceivable for Obiakor and his roadside drummers to expect a pat on the back for his special talent in sowing kites among pigeons.
I found Obiakor's lack of guile in his piece rather bemusing. He was quick to show himself even in the first paragraph as a hired hand out for a demolition job. One would have thought that after being drenched in the electoral rain of November 16th and 30th 2013, from a man they had easily dismissed as a stooge, Obiakor and his paymaster would have enough good sense to be more tactful in their comments on Chief Willie Obiano. But evidently, that is beyond them as Obiakor opened his onslaught on his subject with the tasteless allusion to him as "Poor guy! Throughout the course of the campaign for the Governorship election, I always thought that the man has no idea what Peter Obi is pushing him into." Such arrogance! Obiakor takes himself too seriously. What gives him the audacity to assume such a position where he can look down on Chief Obiano with pity and misplaced benevolence?
Obiakor's puerile attempt to make a song and dance of the number of petitions against Chief Obiano in the Tribunal sounded rather hollow. If not for his naivety, he would have known that since our recent democratic evolution, no gubernatorial election has ever been free of litigations. It is part of our growing culture of dissent that proffers catharsis to Nigerian politicians who have yet to understand how to react to electoral defeats. In fact, Obiakor's very paymasters have spent more time in court defending questionable mandates than any known leader in Anambra State. So, why would Obiakor expect Obiano to lose sleep over the shenanigans of perennial litigants?
I laughed when I read Obiakor's attempt to make light of the presence of Chief Obiano in court and the "standing" and "sitting" as he described it. Perhaps, nothing else shows how coarse he is. Isn't it to Chief Obiano's credit that he was in court when the very people who dragged him to the tribunal did not think it worthwhile to appear in court in person? The Governor-elect's appearance at the tribunal carries a moral weight that may be unwise to wish away. Indeed, it is baffling how Obiano's appearance in court could elicit pity from Obiakor or anyone else for that matter who believes in the rule of law in a democracy.
Chibuzor Obiakor cuts a pathetic sight; struggling all through his article to document his personal disappointment with Chief Willie Obiano's victory in the gubernatorial polls last year. His grief beclouded his perception of everything that happened during and after the elections as he strained to stand facts on their heads. In the end, he betrayed extreme ignorance that put him up as deserving of our understanding.
Take his comic recollection of an incident that happened during the last of the televised gubernatorial debates as a case in point. Obiakor sounded as if he was the only one who witnessed that incident. Yours sincerely was physically present in the venue when the moderator, Nancy Ilo, reeled out the rules for the debate, pointing out that while candidates were free to mount the rostrum with their speaking notes, they were not allowed to look at the notes while answering questions or making their submissions.
This is verifiable. Unfortunately, the Labour Party candidate, Ifeanyi Ubah, who arrived late to the debate with a single sheet of paper where his speaking points were neatly typed for him by his handlers, was not aware of the rules of the debate and that people were free to come with speaking notes but not free to speak directly from them. Unsettled by the jibes from Obiano and other candidates who feasted on the gaps in his profile during the fireworks, Ubah made a last ditch effort to save face after the debate by grasping at Obiano's speaking notes and clowning around the stage with them in a manner that suggested that the APGA candidate had done something wrong.
But the audience had a good laugh at this singular act in full awareness that it was the natural reaction of a man who had been thoroughly shown that he did not belong in the arena he was forcing himself into. It is therefore laughable that Chibuzor Obiakor should dredge up this non-issue in his piece in the belief that we can be fooled by his funny efforts, dubbing it "Debategate" and making wild-off-the-mark claims. Try another trick, Obiakor! This one is jaded!
Chibuzor Obiakor's attempt to feed the rumour mill with stuff on how Governor Obi is laying the foundation for Obiano's fall with his well-known donation of funds to some credible institutions in the state is just as hollow as all his rant in the story under scrutiny. In fact, Governor Obi has continued to astound his critics with this line of action. It would be recalled that when he began to make these donations last year, many of Governor Obi's critics had cried blue murder, claiming that the donations were indirect bribes to the electorates. The question is, why is he still "bribing" the electorates now that the elections have been won and rested? For want of something better to say, Obiakor and his sponsors have twisted the narrative. It is no longer a charge of bribing the electorate but "playing father Christmas" and emptying the treasury. Again, I say, try another line!
In ending his highly flawed piece, Obiakor asked a few naïve questions – would Obiano have enough money left to take off with? Would he have enough to stabilize his government, etc? This is pathetic! Obiakor should rather have asked himself two pertinent questions – what is the source of the funds that Governor Obi has been doling out to institutions across the state? And does Chief Obiano have the know-how to source funds for his own programmes and initiatives? But then, that would be asking for too much from a man who is obviously drunk on the drops of cognac from his paymaster's table.
If he hadn't been inebriated by the cheap wine he drank in the cellar of his paymaster, Chibuzor Obiakor would have recalled that Chief Willie Obiano gave assurances during his campaign that he had extensive contacts in global finance to secure counterpart funding arrangements for his programmes. He would also have recalled that Obiano's productive years in the Nigerian financial sector were not spent to forge the character of a clueless technocrat who cannot think his way through financial puzzles.
And perhaps more importantly, Obiakor would have realized that after 8 years of adroit management of the resources and fortunes of Anambra State, it is rather too late in the day to alter Governor Peter Obi's story into the narrative of a wasteful governor who would leave his anointed successor with an empty treasury. By the way, I know it will depress Obiakor and his sponsors a bit more but it is certainly interesting know that come March 17 this year, Governor Obi will be leaving his successor with a huge treasury of about $100m (N17bn). The ebullient governor revealed this at a media parley in Lagos at the weekend. Picture that!
In all, it is evident that Chibuzor Obiakor is a member of the vocal minority of gifted Anambrarians who have turned wolf-crying into a high art. The trouble with Chibuzor though, is that he cries over shadows rather than substances. And that is the real pity!
Okenkita, a grassroots democrat and public affairs commentator writes from Amawbia, Anambra State
Disclaimer:

"The views/contents expressed in this article are the sole responsibility of the author(s) and do not necessarily reflect those of The Nigerian Voice. The Nigerian Voice will not be responsible or liable for any inaccurate or incorrect statements contained in this article."