Kumuyi urges Nigerians to remain prayerful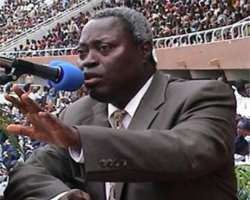 The General Overseer, Deeper Life Bible Church, Pastor Williams Kumuyi, on Sunday urged Nigerians to always resort to prayer to resolve the problems confronting them individually and as a nation.
Kumuyi gave the charge during a special programme held at the church headquarters in Abuja.
He said that worry and anxiety could not bring solutions to the challenges facing individuals or the nation but prayer was necessary to turn things around.
The cleric enjoined Christians not to resort to human wisdom, rioting, fighting or mere debates in addressing the challenges of life but to remain steadfast in prayers.
'When Peter was kept in the prison, prayer was made for him; not politics, not human wisdom, not debate, not rioting, not fighting, but prayer.
'When there is a problem, we should resort to prayer,' Kumuyi said.
According to the cleric, God is always ready to step in and fight for his own in time of trouble.
He, therefore, urged the people to move closer to God and surrender their affairs to Him. (NAN)