Bayelsa attack: MEND claims responsibility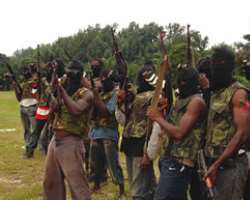 The Movement for the Emancipation of Niger Delta said on Sunday that its fighters attacked two police gunboats at Peremabiri, Southern Ijaw Local Government Area of Bayelsa State.
The group said the gunboats were escorting a former militant leader, Mr. Eris Paul, popularly known as Ogunboss.
MEND said Ogunboss, other ex-militant leaders and their 'ill-gotten property' had been penciled down for destruction.
'They are now persona non grata in the creeks, and their lives and ill-gotten property have become legitimate targets for destruction.'
The group, in a statement by its spokesman, Gbomo Jomo, said the attack that occurred on Saturday was carried out in a style reminiscent of the maiden operation of its campaign, Hurricane Exodus, that killed 15 policemen in the state on April, 2013.
Police gunboats came under attack on Saturday by gunmen initially thought to be youths from the community and led to an exchange of gunfire that lasted over 30 minutes.
But MEND after claiming responsibility for the incident in which two persons were feared killed, described Ogunboss and other ex-creek warlords as traitors.
MEND said Ogunboss and other ex-militant leaders 'now hiding in the cities, sold their birthright for contracts and political appointments to the detriment of a just cause.
It said its action was predicated on the words of 'our hero, the great Madiba, Nelson Mandela, who said, 'No self-respecting freedom fighter would take orders from a government he is fighting against or jettison a long-time ally in the interest of pleasing an antagonist.'
The group also said it was not yet freedom for the Nigerian National Petroleum Corporation which recently announced the completion of repairs on the Escravos-Lagos gas pipeline which MEND said it attacked by Hurricane Exodus.
It asked Nigerians not to expect improvement in power supply through gas pipelines until the issues that led to militancy in the Niger Delta had been addressed.
The group further said  it learnt from a reliable source in the National Hospital, Abuja, that the 'last paragraph' that concluded the psychiatric evaluation report on Mr. Charles Okah was doctored.