Power Blackout, Secondary School Students took to protest, Paralyzed Academic Activities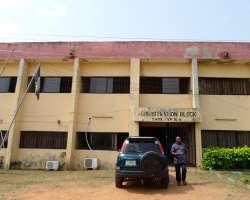 Academic activities was paralyzed recently at Federal Government Technical College, Awka, Anambra state as over 500 placards bearing students of the college protested over lack of water and power blackout in the school, vowing not to be tutored till the problem is resolved.
As early as 7 o'clock in the Morning, weekend, the demonstrators blocked the college's entrance gate and the road leading to Amawbia junction/along Onistha Old road, causing traffic gridlock for over thirty minutes.
Speaking to Orient Daily, the School Headboy, Mr. Ikenga Okonkwo explained that it was a "peaceful demonstration exercise aimed at intimating the school management and the general public their needs in the dormitory.
He said: "We are frustrated that our management is yet to fix the source of our power supply which developed faulty early December last year. When we were about going on vacation, our school's power generating set sparked-off. As a result, we switched to PHCN as a major source of light. Unfortunately, the transformer we tapped current was allegedly vandalized by yet to be identified hoodlums who also made away with its cables".
"Till date we have neither water nor light in our school and the management seemed to be careless about the ugly situation. Currently, we source for water outside the school individually through our meager "pocket money". Also, we can't study at night as we do previously; talk more of ironing clothes and so on even as our end of term examination is fast approaching", he added.
Others who spoke to the press under the condition of anonymity alleged negligence to their plight by the school management noting that they have written to them time without number but with no positive response, stressing also that their hostel porters threatened to expel them for embarking on the demonstration to voice-out their grievances.
A-female teenager, Miss Miracle (surname withheld by us), said "As you can see, we shall never allow them to teach us today without resolving this issue. Can't you see us, some hanging about the trees, others playing football, many already gone to their various homes? We shall continue the protest till down. At last, we have achieved little result. Immediately we started, they ran out of the school premises, but later returned with a commercial Water Tanker who then filled our tanks with dirty water. The water is non-hygenic to us. We can't drink such to avoid water-borne diseases. We were about agitating this when you (the press) came".
Efforts to speak with the school Principal, Mr. Makio was futile, as the Vice Principal (on Special Duties), Mr. Austin Ayo Fakorede ordered the press to leave his office at once, claiming that the Principal travelled out of the state for a meeting, and he would never speak to the press even if on sit.
He angrily echoed: "Our students were never on rampage. They have never demonstrated for anything today. And don't quote me. Sorry, I don't grant interview to the press because we the Civil servants are banned from doing so. Beside, my boss is not on sit…Gentlemen of the press, you can take your leave, I can't disclose my identity or that of my boss to you...Is it because you saw it written on my table? Don't quote me, that is not my name. I did not speak to you."
However, as soon as this reporter was about vacating the premises, the non-drinkable 'tanker' water was let-off the tanks as a generating set was overheard powering tap-borne water for the school usage.
ADMIN BLOCK OF FGTC
ENTRANCE GATE OF FGTC, AWKA
ENTRANCE GATE OF FGTC