Bianca accepts appointment as APGA's new Leader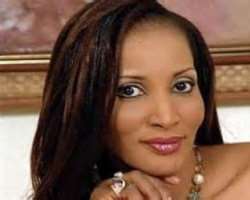 Widow of Dim Chukwuemeka Odumegwu-Ojukwu, Iyom Bianca Odumegu-Ojukwu, has accepted her appointed as the new Leader of the All Progressives Grand Alliance (APGA).
Bianca, who is Nigeria's current Ambassador to Spain, was on Thursday announced as her husband's successor by the party's National Executive Committee (NEC) convened by Chief Maxi Okwu, who was recently recognised as APGA National Chairman by a Federal High Court sitting in Abuja.
The APGA leadership under Sir Victor Umeh, however, promptly dismissed the appointment, as "another exercise in futility." Said the Umeh camp, which earlier announced Anambra State Governor Peter Obi as the party's new Leader: "We deplore in no uncertain terms Maxi Okwu's latest attempt to drag the esteemed wife – Iyom Bianca Odumegwu-Ojukwu, of our late National Leader - DIM Chukwuemeka Odumegwu Ojukwu, into his political schemes . . . We restate again, that Her Excellency, Iyom Bianca Odumegwu-Ojukwu, gave no such permission, and is presently not entertaining same."
Responding to Umeh's claims, Mr. Stanley Chira, Acting National Publicity Secretary of APGA under Maxi Okwu, told News Express last night: "Victor Umeh does not know what he is talking about. We got Her Excellency, Iyom Bianca Odumegwu-Ojukwu's consent before announcing the appointment. There is a written consent. You can quote me on that."
News Express reports that Umeh and Okwu are basing their claims of APGA leadership on different court judgements and that the case is expected to drag up to the Supreme Court.