Jonathan can't grant Ibori pardon - Clark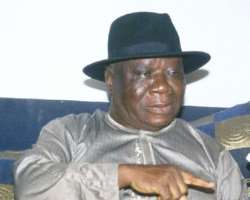 Ijaw leader and First Republic Minister of Information, Chief Edwin Clark, has dismissed calls for a presidential pardon for the embattled former governor of Delta State, Chief James Ibori, who was convicted by a United Kingdom Court.
Clark said only the Queen of England could grant Ibori pardon.
According to him, Ibori must show good character and repentance before being given amnesty by the Federal Government, adding that 'amnesty is not granted overnight.'
He spoke in Abuja when a group of Niger Delta protesters under the aegis of Coalition of Urhobo Nation Youth Leaders and Stakeholders led by a civil rights activist, Mr. Rex Anigboro, besieged his (Clark's) Asokoro residence demanding a state pardon for Ibori.
The group also alleged marginalisation of the oil-rich region in federal appointments.
Clark said, 'The question of granting amnesty to James Ibori does not arise because he wasn't sentenced by a Nigerian court. He is serving imprisonment in Britain and it is only the Queen of England (that) can grant him amnesty and it is only when he is in Nigeria that he could be granted pardon. You can't grant amnesty to somebody in another man's country.'
But when asked whether he would subscribe to the idea that the ex-governor should be granted amnesty after serving his imprisonment in UK, he retorted with some conditions.
He said, 'That is not my business; Ibori has been properly sentenced to imprisonment by a court in Great Britain; there are ways of serving those terms of imprisonment. If he completes the terms, he comes out of the prison. If he comes home, the decision to grant him pardon rests with the President of Nigeria.
'It is not just that you come out from prison and expect pardon. No! You must show good character, repentance and demonstrate very great loyalty to your country. So many things will happen, amnesty is not granted overnight.
'So, no individual can contribute to it. It is only by his own activities after prison, observed by Mr. President and the government of the country that will enable him to be granted pardon.'
He also described as uneventful the defection of ex-Vice Preident Atiku Abubakar from the Peoples Democratic Party to All Progressives Congress, saying he is a political wanderer.
According to him, Atiku is a politician who is desperate for the Presidency and 'will go to anywhere and will do anything.'
Clark said, 'Atiku's defection is not an event, it is uneventful because of his ambition to become President at all times. He will go to anywhere and will do anything. He now believes that one day he will be President, even though he is telling people that he is not interested in the Presidency. That is his main aim of going to APC and you will soon see it. Atiku will soon want to contest the 2015 Presidential election.'