Gov. Obi Warns Contractors To Sit-Up Or Face Sanctions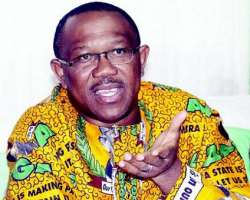 Anambra State Governor, Peter Obi
Gov. Peter Obi yesterday warned contractors who are not serious with their jobs to sit-up or face sanctions. Gov. Obi said this yesterday while inspecting many projects scattered around the State, ranging from road construction and other structural work to schools being rehabilitated.
Speaking during the inspection, Gov. Obi expressed satisfaction with the progress of work at many sites including the Hotel projects in Agulu and Onitsha; the Shopping Mall projects in Awka and Onitsha; ongoing bridge projects at Nsugbe Atani and Ishiagu.
At few sites where he was not satisfied with the pace of work, he said there was no reason why any contractor working in Anambra State should not be serious with his work since Government did not owe any of them. "My Government does not owe any contractor. We have enough money for our projects and only demand from contractors to be fast, with assurances that any certificate generated would be paid. But for those who are not serious for reasons only themselves know, we will not hesitate to revoke their contracts", Obi said.
On erosion in the State, Obi who continued to appeal to international organizations for assistance said that the State would continue to do her best. "We have worked in many erosion sites, close to 30 of them, some of which are Agulu Avenue, Nkpor; Umuchiani, Ekwulobia; Adazi-Nnukwu; Osumenyi; Awka; Nanka; Nnewi; among others. We have concluded plans, with the money at hand, to see what we can do in few days at erosion sites at Umunze, Nimo, Oraefite, Ebenator, Okpuno, Ebenebe, among others. We shall not finish everything. Wherever we stop, the in-coming Government will continue", Obi said.
On what keeps him working even at a time he was supposed to be winding down, Obi said that government would not come to a halt because his tenure was about to expire. He assured that he would go to the inauguration ground from his work table on the 17th of March.