Al Jazeera Blasts Egypt Charge Sheet On Detained Journalists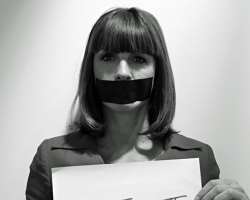 The list of people being pursued by the Egyptian authorities in the case involving Al Jazeera English's detained journalists has finally been officially served, allowing the network to comment on the case for the first time.
Nine network staff are on the list of twenty, meaning most of those named are not employees of Al Jazeera. Three have been in detention since 29 December 2013 – Baher Mohamed, Mohamed Fahmy and Peter Greste. Al Jazeera Arabic's Abdullah Elshamy is currently in the third week of a hungerstrike against his ongoing detention by the Egyptian authorities, which began last August.
Added to their names are British journalists Sue Turton and Dominic Kane. Turton is a seasoned former Sky News, ITN and Channel 4 journalist, who has reported from Afghanistan, Libya, and most recently, Ukraine. She has won two Royal Television Society Awards during her 25-year career. Kane joined Al Jazeera English in April 2012 after more than a decade at the BBC. He is an alumnus of Cardiff University's School of Journalism. Both reported from Cairo in the aftermath of Morsi's ouster.
Others named are Egyptian producers and engineers working for the network in Doha, all of whom refute the charges against them.
Yesterday, Dutch journalist Rena Netjes posted on Twitter that despite never having worked for Al Jazeera, she believed she was implicated in the case by the Egyptian authorities because she once spoke to Mohammed Fahmy in a hotel lobby.
Al Jazeera English managing director Al Anstey said, "The allegations and actions of the Egyptian authorities are extraordinary, unjust, and unacceptable. Journalists exist to cover and challenge all sides of every story, so the idea we would broadcast "false news" is not only totally wrong, it is also a challenge to journalism itself and the critical role journalism plays in informing people worldwide what is really going on. All of our Egypt videos are available to view online, and everyone that watches them can see clearly they are accurate, comprehensive, balanced, and underpinned with quality and integrity. The reports tell all sides of the complex story in Egypt. The charges should be dropped, and all of our journalists who are in prison in Cairo should be freed immediately."
Turton added, "I am astounded that a warrant is out for my arrest because of my reporting in Egypt last year. I didn't treat the situation there any differently to every other story I've reported on in almost 25 years as a TV reporter. I have no allegiance to any political group in Egypt or anywhere else and no desire to promote any one point of view. I find it quite extraordinary that my stories on everything from Cairo pollution and TV satire to protests from all sides of the fence could be seen as assisting a terrorist group. Myself and the Al Jazeera English team in Cairo did all we could to provide balanced coverage in what had become very difficult circumstances on the ground."
Kane said, "I was deeply concerned to hear of the arrest of my colleagues and dismayed by the accusations against them. No-one should doubt the harshness of the conditions they have been held in for the past five weeks and counting. They should be released immediately. They were doing a difficult job as well and impartially as they could in trying circumstances. I have always sought to cover the events I witness with impartiality and accuracy. I trust that all who watch my reports will see that."
The case of the detained journalists went viral on the internet yesterday, with people around the world posting pictures of themselves with their mouths taped, holding up signs with the hashtag #FreeAJStaff. Their release has been supported by media outlets, press freedom organisations, and yesterday was also backed by the White House.
Sue Turton and Dominic Kane are available for interview. Please contact [email protected]
2014-02-06 140410
2014-02-06 140352