INEC lists financial constraint, voter education as top challenges to 2015 polls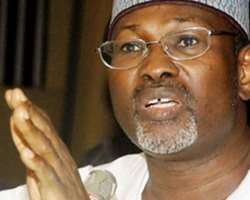 Ahead of the 2015 general election,
The  Chairman of the Independent National Electoral Commission (INEC), Prof. Attahiru Jega, on Wednesday opened up on what could be likely constraints to delivering unimpeachable 2015 general elections.
Top among them are financial constraints and voters' education.
Jega spoke  when he received Netherlands' Director of sub-Saharan African Department, Michael Stubbe and the country's ambassador to Nigeria, John Groffen in  his office in Abuja.
According to him, financial constraints have limited its ability of the commission to disseminate information to voters, resulting in inadequate voter education.
The  INEC boss pointed out that the commission was  prepared to conduct elections in all parts of Nigeria, despite being aware that some states have been under state of emergency.
He said that the that INEC was mindful of the security issues in the country, but assured that there would be better  security arrangement in 2015 than that of the 2011 elections.
'We are aware that those issues are not in our hands, yet we have to rely on security agencies' advice and expertise for us to be able to go ahead with the elections in the states,' he said.
On voter education, public enlightenment as well as the logistics challenges, he called on the  international partners to come to the assistance of the commission on those regards..
On the 2015 timetable, Jega again defended the 2015 election time table released by the commission recently, saying that  what the commission did was purely based on its own internal consideration, without any regard to favour any interest.
He said  that the timetable sequence was the same with that of 2011, despite compressing the previous three elections days into two days in the upcoming election.
The INEC also criticised political parties, which often abandon their manifestos immediately they form government, adding that soon after elections, they adopt strange manifestos outside the original ones of their parties.