Group commends Jonathan on Confab, asks for more slots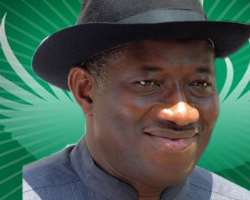 Grand Visionary Youth Empowerment Initiative has commended President Goodluck Jonathan's decision to convene an all-inclusive Nigerian National Conference, but expressed dissatisfaction with the list of conference delegates from youth organizations that has only 18 slots as against representations from other bodies and requested the President to revisit the issue and add more slots for the teeming Nigerian youths that command greater percentage of Nigerians
The group which stated its position in a communiqué issued at the end of its 2014 first quarterly executive meeting of the group held on Saturday , 1st February, 2014 , at its registered office ,No 33 Pound Road, Aba, Abia State and signed by its national president, Chukwuemeka Gabriel , the legal adviser Barr. Samuel Uwaeme, national secretary Bibo Agbabe , publicity secretary Barr. Onuwabuchi Ezenta, national woman leader, Hon. Mrs Ann Makama, coordinator north, Hon Ernest Terungwa Nomnor, Comrade Ubi Okoi Etang and Osaro Michael the group condemned in very strong terms the recent political attacks on the personality of President Goodluck Jonathan by the opposition All Progressives Congress APC, members of the break-away Peoples Democratic Party (PDP) and some key political figures in the country..
GVYEI said the attacks on President Jonathan and the incidences of insurgences in the country were contrived by the enemies of the present administration and targeted at derailing it from achieving its altruistic goals of transforming the country positively.
The group also called on the federal and state governments to establish cottage industries and at least one training centre for youths in all local government areas across the country as a way of arresting the problem of unemployment and stemming the tide of social vices associated with unemployment as well as the promulgation of an act which allows unemployed youth to be placed on monthly subvention.
The group condemned acts of political violence usually characterized by the destruction of important public infrastructures which could be curtailed if governments at all levels engage the youths positively and not being used as touts by politicians.
The group also thanked with President Goodluck Jonathan, the Senate President David Mark and the Speaker house of Representatives Alhaji Aminu Tambuwal for providing qualitative leadership in their different capacities and officer and endorsed President Jonathan for another term.