Samson Osagie The Failed 'Legislooter' Has No Constituency Office In His Constituency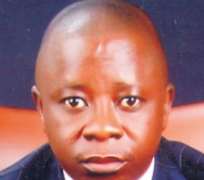 Karl Marx, The Spiritual leader of MARXISM adumbrated many years ago that " Leaving an error uncorrected is to encourage intellectual immorality" It is an error for our representative to jettison us and thinks he is the lord master inlieu of the servant. We the people must correct that errantum.
It was Mokwugo Okoye, A great Nationalist and Socialist leader who adumbrated that "To be silent in the face of so many evils crying for action is to give consent to their continued existence."
Should the people of Uhumwode be silent in the face of so many evils in our constituency?
It is very lucid that my great people of Uhumwode are suffering in silence even when we have a legislooter (Samson
Osagie) who earns more than American President who is suppose to make our constituency heaven on earth with the heavy amount of constituency allowances. He has not done anything tangible and conspicuous in 15 years of his legislative and political peregrination. This is ridiculous and inglorious.
Abraham Lincoln, the 16th President Of America told us in the afternoon of Thursday, November 19, 1863 that "Four score and seven years ago our fathers brought forth on this continent a new nation, conceived in liberty, and dedicated to the proposition that all men are created equal and that this nation, under God, shall have a new birth of freedom—and that government of the people, by the people, for the people, shall not perish from the earth" Democracy is all about the people. It is extremely lugubrious and sardonic to ascertain that up till now Samson
Osagie who is representing Uhumwode/Orhiomwon Federal Constituency has not deem it fit to meet with the good people of Uhumwode to give account of his stewardship even when the youths of Uhumwode under the platform of UHUNMWODE YOUTH FOR POSITIVE CHANGE demand to know.
No wonder the legal maxim said NEMO DAT QUOD NON HABET. You don't give what you have not. It is not by empty vibration on the floor of the house that matters. It is not by moving motions that have no bearing on the talakawa that matter but what matters to the people is the many projects you have executed or influenced to the constituency. His taciturnity to be accountable to the people is a case study
Samson Osagie, the whole world is watching, we shall be addressing a world press conference in a jiffy to tell the world that Osagie is representing himself and some egocentric good fathers in the House of Representatives not the people of Uhumwode. It is demonstrated by his actions not to have a constituency office where he was voted to represent. He ( Samson Osagie ) should also remember that the Freedom Of Information Law is working in Nigeria. We say caboodle rejectamenta to his aspiration to the senate, though he might be given the ticket under APC because he has all the dolloras to share, He will never win the election. QUOD ERAT DEMONSTRADUM
Samson Osagie
Disclaimer:

"The views/contents expressed in this article are the sole responsibility of

Marxist Kola

and do not necessarily reflect those of The Nigerian Voice. The Nigerian Voice will not be responsible or liable for any inaccurate or incorrect statements contained in this article."