Gunmen kill Newswatch editor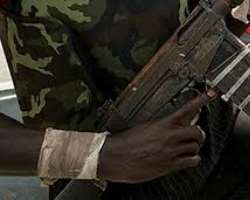 Hours after he was shot twice in the stomach by suspected armed robbers, The Deputy Editor of Saturday Newswatch, Mr. Toyin Obadina, has died of gunshot wounds.
He was shot twice in the stomach by suspected armed robbers.
in the early hours of yesterday. Obadina at the Ikorodu area of Lagos on his way home after the day's work.
He  was immediately rushed to the Lagos State University Teaching Hospital (LASUTH), Ikeja, where doctors battled to save his life.
According to reports, late Obadina who was driving in  a Toyota Yaris car ran into  the suspected armed robbers on the Itoikin-Old Ijebu-Ode Road, while going to his residence in Parafa area of Ikorodu.
He was said to have offered no resistance, but that did not suffice for the trigger-happy the gang who were in two Sport  Utility Vehicles, who shot him point blank before abandoning him in a pool of his blood.
His wife,   Abiola, was quoted in earlier reports as saying that her husband was  responding to treatment after the doctors carried out an emergency surgery on him to extract the bullets from his body.
But Obadina  late died  as the gunshots had left fatal injuries on his stomach. The state police spokesperson, Ngozi Braide, a Deputy Superintendent of Police (DSP), was quoted in various reports as that  efforts were being made to arrest the suspects.
"The DPO received a call informing him that Mr. Toyin Obadina (50 years), while driving a Toyota Yaris car with registration number AKD701CE, was attacked along Ijebu-ode by Hypo/Lucky Fibre junction.
"He was attacked by five hoodlums who operated in a jeep. They stole N20,000 from him and shot him in the stomach.
"The scene was promptly visited by the DPO and his team and they later visited the victim at LASUTH and he was responding to treatment. Unfortunately, we received another information that the victim has died."
The Nigerian Guild of Editors (NGE) on Sunday expressed shock and sadness over the death of Obadina and called on government beef up security in the country.

The guild, in a statement by its President, Mr. Femi Adesina, on the death of Obadina, said the onus was on government at all levels to curb criminality and that anything less than that would not be acceptable.
"It is most probable that our colleague, Obadina, met his end through one of such illicit weapons," he added.
"This once again underscores the abyss into which we have descended in Nigeria. Here, life is truly in that Hobbesian state of nature: nasty, brutish and short,"  Adesina said.
While recognising the efforts of the Lagos State Government to ensure security in the state, the NGE said it was appalled by the spate of insecurity of lives and property.