Gov Kwankwaso wants FG to negotiate with B/Haram or crush it now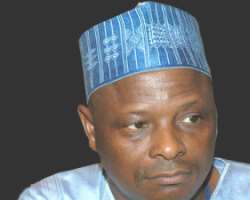 Kano State Governor, Dr. Rabiu Musa Kwankwaso, wants the Federal Government to either negotiate with the perpetrators of the violence or take concrete and urgent steps to contain them.
Kwankwaso said there  was an urgent need to put an end to the raging violence in the North-East and stabilise the region's economic base so that the crisis did not spread to other parts of the country.
The governor spoke in an interview with journalists.
Kwankwaso said, 'I think that this is the right time for the President to come out and do the right think. The right thing is for the Commander-in-Chief  to come out sincerely and either negotiate or fight what is happening in the North East and other parts of Northern Nigeria.
'I think the days of pretence should be over. I am surprised that many of those we spoke to said that many people were not serious in fighting the menace that is happening in the North-East and other parts of the north because some of them are saying that 'na dem dem'.
And I don't think that that approach will help. If you are a governor, every square inch in your state should be your own and not owned by 'dem dem'. This issue of security, economy and education is very important.
'I remember that at a time when there was a serious security challenge in the Niger Delta, the late President Umaru Musa Yar'Adua came up with a special amnesty programme whereby those men and women who were involved in the acts had to lay down their arms and ammunition for a better programme.
'I think the Federal Government should come up with something for the North-East. I am from the North-West and we are poor but the North-East is poorer and something needs to be done to arrest the worsening situation in the region.
The issue is not allocating N2 billion in the budget for the North-East but taking the necessary steps backed by the required political will to end the violence in the region.'
Terrorists have literarily taken over the northeastern flank of the country making life unbearable for law-abiding citizens. Persons running into hundreds have been killed by the insurgents in that area in recent times.