IMO GOVT TO CONSOLIDATE EFFORT IN RURAL DEVELOPMENT ...AS MADUMERE VISITS RAMP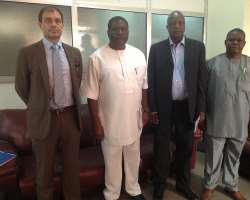 Imo Governor, Owelle Rochas Okorocha, has moved to consolidate his government's effort at developing rural areas.
Answering questions last Thursday, January 30, why he had visited RAMP office after a meeting with the National Coordinator of Rural Access and Mobility Project, Engr. Ularamu Ubandoma and representative of Frederic Minaret, Project Manager, Infrastructure, Agence Francaise De Developpement, AFC, earlier yesterday at their Abuja office, Imo Deputy Governor, Prince Eze Madumere hinted Imo Governor's poise to continue with his massive development of the rural areas in Imo State.
Speaking further, Imo Deputy said Governor Okorocha directed him to personally follow with the partnership with Rural Access and Mobility Project to ensure the Project begins in earnest. He further assured the National Coordinator of the Project and AFC representative that Imo State government has met up with the necessary technical and other conditions to participate in RAMP.
Prince Madumere averred the link between accessible road, infrastructure and industrialization cannot be over emphasized saying no meaningful investment, whether local of foreign, is possible without accessible roads and other structural facilities.
It will be recalled that Owelle Rochas Okorocha led Rescue Mission is constructing twenty kilometer Road in every local government in Imo State, 305 primary school blocks in 305 wards, renovating and reconstruction of community Health centers in autonomous communities with Community Government Council.
In their submissions, Engr. Ularamu and his AFC counterpart, Mr. Federic extolled the vision Imo State Government and promised to fast track all the needed processes since the Government has done its part.
Meanwhile, Imo Deputy in company of Accountant General of Imo State and Imo State Coordinator of RAMP, visited other institutions and Ministries like Ministry of Finance, World Bank and other development agencies, which their primary concern bother on development.