JIBOLA DABO - NOLLYWOOD LEGEND SET TO SERVE HIS PEOPLE: - Bisola Iyasara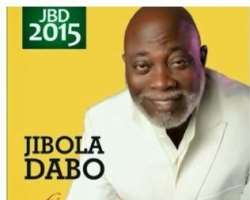 The founder and Chief Executive of "Bisola Hair", Bisola Iyasara is by all standards a success story. A daring young lady, who ventured into a highly competitive beauty industry, carved an enviable niche for herself in the hair beauty sector. This elegant, intelligent, humble, Nigerian diasporean of Yoruba father and Igbo mother has taken hair beauty to the highest imaginable level; attending to vast clients from Hollywood to Nollywood, business executives to renowned politicians and other celebrities across United States of America, Europe and Africa.
The Nigerian Voice brings you an exclusive encounter with this unique Nigerian on her latest adventure as a spokesperson and coordinator of Jibola Dabo's political project.
The Nigerian Voice: Who is Bisola Iyasara?
Bisola: I am a Professional hair specialist consultant, C.E.O of "Bisola Hair", based in New York and London. Bisola Hair is a classy popular hair brand that sells the highest grade of human virgin celebrity hair wefts and glueless silk top full lace wigs to ladies in Nigeria and all over the world. I am an enthusiastic person, very multi-tasked and a skilled trained motivator speaker. Occasionally I am booked to speak at Nigerian government Seminars and charity events in New York and London. I talk about several different topics from lack of employment in the local communities, to the increase of crime. It's my duty to urge the government to do more to support the local communities with more resources and funding.
The Nigerian Voice: Being a successful entrepreneur of international repute, what may have led to your acceptance to serve as a spokesperson and campaign coordinator of renowned Actor, Jibola Dabo's political agenda?
Bisola: I and Jibola share similar political ideology. Both of us have a lot of interest in people's wellbeing in the society; have passion for helping the helpless and defending the defenseless in in our midst. We represent good causes; the homeless, youth, women and all the underprivileged. We share common life philosophy as it affects our people. That made the offer from Jibola on the tasking project, irresistible. I have made trips to Owo in Ondo State of Nigeria which is the Federal Constituency that Jibola will be representing come 2015 election. The team is prepared, equipped and ready to launch Jibola into the Federal House of Representative in 2015. The group is made up of highly motivated young men, women and youths who have unconditionally bought and welcomed the idea of Jibola's candidacy. Our collective ideas and their plans are fantastic, so it is a noble cause for me to be part of this project especially at the capacity of a spokesperson and coordinator. Jibola Dabo is very passionate about making great "NEW" changes for his people at Owo in Ondo State. As we speak now, the legendary Nollywood actor is very occupied, fine-tuning his road map to impacting more positively on the lives of Owo people and I am very impressed with his good hard efforts. Believe me; many people are supporting him and his campaign in Owo constituency. Without mincing words about it, Jibola is already assured by his people of their total support in the project.
The Nigerian Voice: Your Principal, Mr. Jibola Dabo is popular actor; however, in your understanding, who is Jibola Dabo?
Bisola: Jibola is a hard -working, God fearing complete gentleman who is enthusiastic in using a political tool in reaching out to his people. Jibola is one of Nigeria's living legends in the area of acting and drama He is a household name. He is a man whose life principle is "excellence" or nothing. He has proved it times over in his occupational environment and today, he can stand with his shoulders high as a man of unquestionable integrity. As Nigeria journeys into her nascent democracy, the likes of Jibola with outstanding antecedent of touching lives of people will definitely be chosen by his people. It means that his voice will be louder and stronger for the under privileged, the young and the old. He will be able to seek better health care, better roads, education and scholarships for students, youth empowerment, and more employment for the people of Owo in Ondo State. Jibola is a man who is ready to lay it all for his people and his people knows it and appreciates him.
The Nigerian Voice: Why do you think he wants to venture into politics?
Bisola: Growing up, Jibola was faced with life challenges. He was so familiar with poverty, hardship, deprivation and all the cruelty that life could sometimes pose. The good news however is that he excelled in all of it. Providence and hard work has placed him to become a top recognized Nollywood actor. He has a very remarkable fighting spirit. His past, married to his present makes Jibola an ideal voice of his people. He wants to use a political platform to fight for his people at Owo and help them to get better living and working conditions. Jibola feels that he owes posterity the duty to speak for his people, to right the wrongs that have befallen his people and as his usual self, leaves an enviable political legacy. I can tell you that Jibola is so ready to represent the people of Owo. All that the people need to do is mobilize all their VOTES for Jibola Dabo as not only an election vote but as a vote of confidence that all the people want him. He is the instrument that God has set apart to restore hope and smiles on people's faces in Ondo State. Obviously, he should be applauded for accepting to serve his people better.
The Nigerian Voice: What do you think will be his selling point to Owo electorates and under what political platform?
Bisola: Jibola's selling point is very glaring and understandable. A man with such background as he had is able to identify closely with the downtrodden in the community. He is fully aware of the pains and sufferings of not having enough to eat as a child, and the hardship of growing up with a single mother. He knows the pains of struggling and not having something. He still has the memories of seeing a lot of poverty around him. He is very in-touch and conscious, not far removed from the needs of his people. Jibola being in the lime light has a fantastic good followership of people. He feels it's time to stand for his people with his strong character and strong voice. His selling points are quite clear. Better health-care, low school fees (scholarships), more employment, good family clinics, better roads, homes for the orphanages etc.

The Nigerian Voice: How would you compare your Principal's passion for his "acting world" and his new found world of politics?
Bisola: Jibola is talented, highly respected and gifted. He is passionate for every occupation that he ventures into, probably because of his love for excellence. He has been passionate in his desire to empower his people and touch their lives in a positive way. As soon as he gets the mandate in 2015, I believe that his passion to salvage his people will be unlimited. Jibola is man that people always want to meet, watch and listen to, so politics works wonderful for him.
Jibola's extensive knowledge of the people in Ondo State is amazing. His cultural heritage and the ability to turn raw talent into money are brilliant. His proven skills to create empowerment programs for the youth earned him "Ambassador for culture and Tourism award" from Ondo State government. Nollywood movies have given Jibola a fabulous platform and a good voice.
I, Bisola Iyasara strongly believes that politics will give Jibola a much bigger and greater voice. He will really be able to speak out for his people at Owo in Ondo State. He will do an amazing job.
The Nigerian Voice: What would be Mr. Jibola Dabo's first message to his constituents on his new political intent?
Bisola: I have been asked this question several times by other interviewers in Newspapers.
Jibola's message will be clear and straight to the point. Support him look into his tradition on community collaboration so that development will not depend on the government alone. His message of hope for tomorrow is already reverberating among his people because he is a symbol of hope and restoration.
The Nigerian Voice: Thank you Bisola for your time.
Bisola: Thank you for having me.
Bisola Iyasara - Spokesperson/Coordinator of Jibola Election Project