I have a five-year-old son -Wande Coal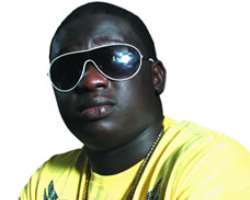 Hip hop singer, Wande Coal has revealed that he is a father. Speaking to Saturday Beats earlier in the week when he was unveiled as the newest Globacom brand ambassador; the singer said his son is five years old.
'You will not wake up in the morning to read a lady saying I am the father of her child. I might as well tell you now that I already have a son and he is five years old. I am not telling you about his mother, just know that I have a son,' he said.
Talking about the Glo deal that landed his way, the dark skinned artiste couldn't hold back his excitement as he gushed, 'I thank God. The deal is in millions. It is huge, I must tell you that.'
When asked how he got the deal, Wande explained, 'I have been doing shows for the company even before now. They just called my management team and told us about this deal. We have always had a relationship even before now.'
Wande said his contract didn't come with any 'restriction.'
'I am not restricted from collaborating with any artiste who is a brand ambassador of another company as long as I don't leave the brand that I am signed under. Glo is about the biggest brand in Africa. It is a plus for me that they picked me to be their ambassador. I am happy. Now my billboards would be everywhere. I am sure this would also encourage the younger artistes. People would never believe that I came from Mushin (Lagos). It is a testimony, a dream come true,' he said.
The new deal has afforded him the opportunity to meet his former label mate, D'Banj who is also a Glo Ambassador.
'We are brothers. It makes me happier. D'banj is my big brother.'
Talking about his exit from Don Jazzy's Mavin Records, Wande said he had learnt to do things his way.
'Now I know it is a different ball game. I have learnt to diversify and try different things.'
Wande told Saturday Beats that he didn't regret leaving Mavin.
'Don jazzy is like a father to me. I left to 'marry' and I don't think I should regret it. I am happy that my brand label, Black Diamond, that I had always wanted to build has materialised. I am not missing anything, what should I miss? I still love everybody, I don't discriminate. I am happy where I am today. I have a cool relationship with (Don) Jazzy. We relate very well. I can't have ill feelings where Don Jazzy is. It is not possible.'
Wande, however, admitted that the crisis  generated by his exit wasn't necessary, he added that it wasn't his fault.
'It wasn't necessary but things happened. It wasn't my fault. I did everything based on love. I never signed any contract with Mavin and I was very obedient. I just wanted growth. That was all. I don't have any beef.'
The singer insisted that he didn't leave the label in order to take sides with D'banj.
'I hurt D'banj most. I was very close to him. But when the problem with Mo Hits came up, I went with Don Jazzy. So how could it be that I left Mavin because of D'banj? I just created my Black Diamonds. I love all of them,' he said.
Wande debunked the rumour that he wouldn't be able to perform all the songs produced by Don Jazzy.
'I performed all my songs last December, including Rotate. I am a song writer,' he said. Punch