Abe, Ake's Defection Strengthens Us More – PDP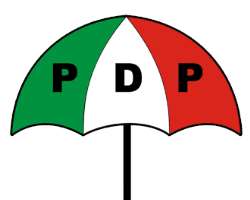 The Peoples Democratic Party, PDP, Rivers State Chapter, says rather than having any negative impact on it, the defection of Senators Magnus Ngei Abe of Rivers South-East, and Wilson Ake of Rivers Central Senatorial District further strengthens the Party as they (the defecting Senators and their allies) have been thorns in its flesh.
The PDP therefore welcomes the exit of the Senators, an action it describes as their public and formal declaration of their position, as for about two years now the Senators (Abe and Ake) have been romancing with the defunct Action Congress of Nigeria (ACN), which merged with other opposition Parties to form the All Progressives Congress (APC).
As a Party, the PDP says, the defection of Sen. Magnus Abe and Sen. Wilson Ake makes no meaning and not a shocker to us. We should rather celebrate their exit because they have been black legs in the Party and their continued stay amongst us will further do us more harm than good.
It is a known fact that it is more destructive having an enemy within the fold than having him outside the fold. So their defection makes the party stronger, united, and focused.
The Party observes that the two Senators lack character, and have allowed themselves to be driven by personal interest, not democratic ideology, which the PDP prefers and represents, stressing that the Party does not and will not in any way provide space for any politician who plays politics of personal interest, above the interest of Rivers Sate and the masses.
The Peoples Democratic Party reiterates that it will continue to abhor activities of persons, particularly elected officials, the like of Abe and Ake, who undermine the mandate of the people, pointing out that the actions of the two Senators and their colleagues in the lower chamber of the National Assembly disregard the power of their electorate, who voted for them, but not consulted before taken any of such political decision.
The Party also reiterates its position and the fact that such defection will in no way negatively affect the outcome of the forthcoming elections, not even in their various wards and units.
The PDP maintains that no amount of selfish motive and acts of blackmail will deter it from pursuing the cause of justice and democracy, saying those Senators are only being mischievous and playing out their personal interest to the gallery.
The Party therefore calls on its teeming members and other well-meaning Nigerians not to be discouraged by the selfish attitude and disposition of the defecting senators and other lawmakers, as at the appropriate time they will all regret they took such poorly conceived action to defect from the PDP that brought them into political relevance.
Signed:

Jerry Needam
SA, on Media to
State PDP Chairman
Friday, January 31, 2014