Please, approve 2014 budget - Jonathan begs Senators, Reps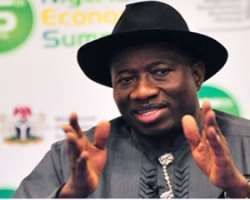 President Goodluck Jonathan on Thursday appealed to members of the National Assembly to expedite action on the 2014 Appropriation Bill  in order to enable  his administration to deliver dividends of democracy to the people.
Jonathan made the appeal during a stakeholders' forum of the Subsidy Reinvestment and Empowerment Programme held inside the Presidential Villa, Abuja.
Jonathan, who was represented at the SURE-P stakeholders forum by the  Minister of Labour and Productivity, Chief Emeka Wogu, told  the Chairman of the Senate Committee on SURE-P, to carry out the assignment of pleading with his colleagues on his behalf.
'Let me appeal to Senator Ningi who chairs the Senate committee on SURE-P to please help urge his colleagues in the National Assembly to expedite consideration of the 2014 budget which is currently before them in order for us to continue to deliver dividends of democracy to our people,' he said.
He  reiterated his administration's determination to continue to improve on the country's infrastructural needs.
While saying that the SURE-P had since its inception in 2012  become a critical unit of his administration's  transformation agenda, the President disclosed that over 190,000 youths had  so far been employed in various categories.
He said that the programme had also intervened massively  in railway, road construction and health sectors.
The Director-General of the Budget Office, Dr. Bright Okogu, put the Federal Government's share of the SURE-P's fund at N180bn per annum.
Meanwhile, the  House of Representatives on Thursday blamed its failure to debate the 2014 budget this week on the ongoing review of the 1999 Constitution.
It said much of the week was devoted to voting on 19 new clauses proposed by the House to be added to the constitution.
The  spokesman for  the House, Mr. Zakari Mohammed,  said, 'We said last week that the budget  debate would be on this week.
'There was an adjustment because we now took the constitution first; all of Thursday was used to vote on the new clauses.
Mohammed dismissed speculations  that tension   between PDP and APC  lawmakers  over the control of the  House leadership   was responsible for their  failure to debate the budget.
He  said, 'I have heard people say we didn't treat the budget because of disagreement between parties in the House.
'No, it was the constitution that delayed it; now that we have concluded voting today(Thursday), the budget will be up next week.'
The Speaker of the House, Mr. Aminu Tambuwal, had during  plenary  announced that the   debate on the general principles of the N4.6tn  budget would start  on Tuesday next week. - Punch.