Re- N10 Million Fraud Scandal of Akwa Ibom Diaspora Netwok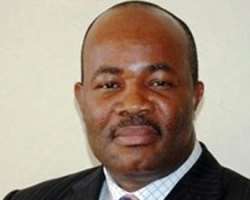 Godswill Akpabio, Akwa Ibom State Governor
By Clayton Udoh "Essien Essien, it is now evident why you have been launching unwarranted attacks on me in recent time. That you requested for financial assistance from Aniekan Umanah to enable you offset your indebtedness in the US is not not enough reason to engage in smear campaigns against him, because, you should have been patient as he told you. Haba, 10, 000 dollars is not so easy to come by In Nigeria!
Mr Saint- Essien, as the saying goes, " he who wants equity, must do equity". Your hypocritical lifestyle speaks a volume about your character: you rained abuses on Adede Steve Nelson, when he lawfully, requested for assistance from the Governor, yet you are busy harassing commissioners whenever they come to the US, is that what sainthood is all about?........Presido Uwem
Uwem Sam,
I scream at the top of my voice. You are a hero. YOU ARE A HERO AND WILL REMAIN SO FOR A LONG TIME TO COME.
That the Commissioner would break silence on this issue says a lot to me! Also at this point let all cockroaches involved in this story come out of the woodwork.
Let it be known that every thing I said was true. My first publication about AIDN in Naija Leaks led to a really angry reaction and later an attack against my family, immediate and extended. Every single thing I said about AIDN was true .The place was overwhelmed with shoe lickers.
In the end , it was no wonder why the guys in Uyo treated us like crap over here and said things they should not say. Uyo was overwhelmed with request from Diaspora begging for money.
Amazing ! No wonder ,Uyo was addressing us the way they were addressing us !
The so called strong moderation of Ibom Chronicle is shadowed by Uwem Sam and Presido Uwem's accusation. Say no evil,Speak no evil and Hear no evil about the Governor. Anything other than that led to the said person ejected from Ibom Chronicle and treated like dust. In the end,nobody got paid and praise singers who owned email accounts turned fake blogs also turned into impromptu haters. From Essien Essien to Mosiac Concept all the way to The rep for AIDN in Arizona that turned in false info about me for the so called Arit Bassey.You guys have set the golden standard for shoe licking! In the end because of your greed a lot of you have nothing to show for your Nyash licking antics.
Then you hear stories like Adede Steven Nelson, after discovering he was about to be stranded by the association he gave his life for,after all the praise and worship,was quick with inches from his teeth to create the school fees furor and collect his share ! Mbom Ye Ata Mbom !
My articles were right on point that even within AIDN you guys deceived yourselves and it was all maneuvering and counter maneuvering for cash.
I would like to ask,what kind of publication from AIDN cost £10,000 pounds? Was it printed by the Queen's printing press? £10000 ? Really?
Who in the USA has seen this publication?
The Governor was always sure to fly in for the AIDN summit even when they had violated their 501C status with the IRS by operating as a political wing of Akwa Abasi Ibom State government in the United States.
Is it today that the Commissioner wants to distinguish that the state had nothing financial to do with the said organization? If that is the case then why is the state obligated to pay the remaining $90,000 ?
Wait a moment ? What is the state paying for anyway? The remaining amount is for what, if the bookings were cancelled ? Is there an itemized list of what this money is for ?
Like I have said ,every member of AIDN will be identified in Diaspora and they will not be allowed to deny like Peter that they were not part of this group and like Peter they will hang in Rome. In the end, I was also right that AIDN met with the Governor on behalf of Diaspora as a monopoly that did not give a damn about Diaspora,then members of this organization would come and insult people in Diaspora to the bones of their face because they felt they were the chosen ones. We all have heard of the Governor walking out of a meeting venue. In the end it was a chain of deceit. Organization deceives diaspora ,organization also gets deceived by higher individuals. That's "poritics" as the village man would say. Uwem Sam congratulations and please expose the cockroaches for what they are .
Clayton "Bane" Udoh
Mesa,AZ