OSCAR 2010, FABULOUS FRILLS, BLINGS AND GLAMOUR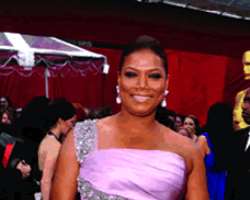 OSCAR 2010
…Fabulous frills, blings and glamour
By Josfyn Uba
Saturday , March 13 , 2010
Queen Latifah
In spite of last year's global economic recession, this year's OSCAR award which is the 82nd edition held amidst fanfare and glamour
Celebrities turned out looking resplendent in fabulous ensembles. While the men came out, all dressed in suits, the female celebrities were obviously out to out do themselves in their glamorous designs.
Hollywood sweetheart, George Clooney who came in his signature black suit was not alone. He came with a girlfriend who clung on to him all through the event
Fabulous frills and the all-time classic, off-the-shoulder seemed to be the themes of this year's event. Many of the A-list actresses made resounding fashion statements in these patterns.
In her characteristic style, Jennifer Lopez led the pack of female celebrities in a figure-hugging form. Demi Moore who is well remembered in the all time classic flick, Ghost where she co-starred with late Patrick Swayze practically swept the audience off their feet in rich frills. Elizabeth Banks, Mariska Hargitay and Penelope Cruz were just a handful in theirs too.
The legendary one-shoulder-pattern was also on the front burner. Queen Latifah held Hollywood spellbound in her winning number. Hers was a shimmering evening dress in lilac colour. She wasn't a lone ranger in that category. Sweet-looking Sigourney Weaver and Tina Fey also stole people's heart in the same style
Many really abided by the fashion rules. What was more evident was their choice of rule number 6; less is more. They glittered away in simple but classy platinum, white gold and exquisite pearls
Sandra Bullock who smiled home with an award did not join in the train of these latest trends, but she shone quite proudly in her glittering all-silver affair. Surely, she would have left some shinning impressions in the memory of many. Her evening dress and purse were all silver
2010 OSCAR awards, no doubt had all the traditional paraphernalia of glitz and splendour.