EFCC amends money laundering charges against Fani-Kayode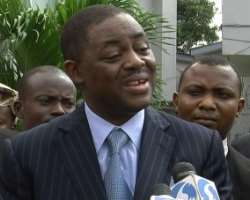 The Economic and Financial Crimes Commission (EFCC) on Monday amended the allegations of money laundering against former aviation minister, Femi Fani-Kayode.
The EFCC pruned the charges against the former minister from an initial 47-count charge of laundering about N230 million to a 40-count charge of laundering about N100m. the case came up before  Justice Rita Ofili-Ajumogobia of the Federal High Court sitting in Lagos.
Fani_kayode's  counsel, Ifedayo Adedipe (SAN), however  objected to the charges on the grounds that it was invalid. On this basis of his position, he refused to allow his client make his plea. According to Adedipe, he is  objecting to the validity of the charges in line with Section 167 of the Criminal Procedure Act.
The lawyer contended that his client is alleged to have received money from anonymous persons. He concluded that the charge was not only invalid but was also vague, persecutory and oppressive.
'They alleged that he accepted money. When you accuse somebody of accepting money, clearly the person from whom the money was accepted becomes important,' Mr. Adedipe stated.
'The other charges there…one of them accused him of having his wife pay money into his account. These charges cannot be valid,' he added.
The prosecuting counsel, Mr Festus Keyamo argued that the charge was not about stealing or conversion where the owner of the money must be stated.
'The very essence of the crime of money laundering is when the money has no origin, when you are caught with large sums of money and you cannot explain the source,' Mr. Keyamo said.
Ofili-Ajumogobia, asked both the prosecution and defence counsel to file their written addresses and adjourned ruling on the matter till the 3rd of February.