N10 MILLION SCANDAL ROCKS A.I.D.N WITH GOV. AKPABIO IN THE CENTRE OF CONTROVERSY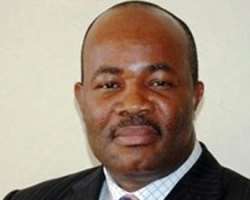 Godswill Akpabio, Akwa Ibom State Governor
Since last year some of our Brothers & Sisters from Germany, United Kingdom and in United State have called on us for help concerning scam instituted against them by a body they associated with, called Akwa Ibom Diaspora Network (A.I.D.N.) We were not interested to carry out this investigation because they refused to listen to warning given to them previously, but since the mission of Liberty Voice is to set our people free from all form of captivity we have decided to take up this matter.
Investigators of Liberty Voice has discovered how N10,000,000.00 about $90,000 given to A.I.D.N. by Gov. Akpabio was not accounted for and its whereabouts unknown.
The revelation came during the meeting of officials of Akwa Ibom Diaspora Network (AIDN) with Gov. Akpabio as it was disclosed to the governor that some people were still being owed to the tune of ($25,000.00) twenty five thousand dollars. The governor then asked Hon. Commissioner of Information Mr Aniekan Umanah to talk about the disappearance of the money and why anybody is owed when there was enough money to cover the event.
Since no explanation was given by either the Akwa ibom Commissioner for Information, Mr. Aniekan Umanah, Special Adviser on Diaspora Affairs, Mr Clement Ikpatt or The AIDN secretary, Barrister Uduak Ukpe, the governor got up and left the meeting abruptly in annoyance. Our investigators are seriously at work trying to find out the whereabouts of this money and several calls to Mr Aniekan Umanah and officials of AIDN did not receive any response. For now we are expanding our investigation to Germany, United Kingdom and United States of America. But the three MUSKETEERS, Mr. Aniekan Umanah, Clement Ikpatt and Barrister Uduak Ukpe must be held accountable to account for this money.
In Los Angeles A.I.D.N coordinators, Mr. Moses Edem, Essien Essien and other members have refused to pick our calls. These are the group of people who were dancing naked for Akpabio must go even after we called police on them for holding illegal meeting in public property to promote A.I.D.N in Southern California. Undoubtedly, we're hoping to meet with them very soon so that they would account for the money. They can run but they definitely cannot hide.
To the general public if you have information that will help our investigators feel free to contact Liberty Voice through our email. We hope to bring full disclosure of our discovery to our citizen very soon since Akwa Ibom State funds are involved. After three years of the so called economic summit organized by AIDN and millions of dollars injected into the event, there's nothing to show for. Not even one industry. I wonder what they are going to do this year to siphon Akwa Ibom people's money
May I use this opportunity to inform the following persons who were in the AIDN business, Mr. Clement Ikpat, Hon. Aniekan Umana, Barrister Uduak Ukpe & Mr. Moses Edem, that we are coming for them very soon.
Stay tune for more to come
Uwem Sam
Liberty Voice, Los Angeles.
Disclaimer:

"The views/contents expressed in this article are the sole responsibility of the author(s) and do not necessarily reflect those of The Nigerian Voice. The Nigerian Voice will not be responsible or liable for any inaccurate or incorrect statements contained in this article."