16 Air Force Recruits Abscond, 4 Dismissed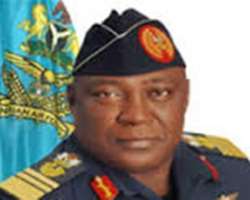 Sixteen of the recruits for basic military training Course 31 absconded for their inability to cope with the rigours of the training while four others were dismissed on disciplinary grounds, chief of air staff (CAS) Air Marshal Adesola Amosu has disclosed.
Of the total 503 recruited for the training, 483 were successful and passed out yesterday in a colourful ceremony at the Nigerian Air Force (NAF) Base, Kaduna.
In his address to the young airmen ad airmen, Amosu urged them to imbibe the spirit of absolute loyalty, discipline, honesty and courage among other values that the military profession requires.
'The Nigerian Air Force leadership and the chain of command will therefore continue to rely on your patriotism, allegiance, commitment and unalloyed loyalty as you go out to serve the nation. You must do your utmost to ensure that the service always stays at the very top; and no sacrifice can be too big to uphold its honour and good name. You must maintain the camaraderie and regimental spirit as essential elements of high morale which is a priceless asset,' he stated.
Represented by the director, policy and training, Air Vice Marshal James Gbum, Amosu reminded the NAF personnel of the internal security challenges facing the country and urged them to prepare for the task ahead in pursuance of 'our efforts to rid Nigeria of the scourge of terrorism and insurgency'.